Sale!
13 LIVES GREEN CARDARINE (60 Capsules)
Description
13 Lives Green Cardarine
13 lives Green Cardarine is by far one of the most comprehensive agents on the market.Summer and body image go hand in hand. It is a crazy time of year for everyone. How do I look my best and place myself on a crowded beach with hundreds of people and feel confident? We are sure we are not alone in that feeling. It sucks. You want to make excuses to sit away from everyone, you almost dread getting into your swimming costume and the worst part, you are not enjoying your day.
The irony is that no one is looking at you, only your own mind. Your confidence.
GreenCardarine is not an instant confidence enhancer, however it is a tool. A tool to maybe get you to where you want to see yourself in that new swimsuit? We want to help you feel like you should belong, be confident, be yourself above all else.
 May Increase VO2 Max
 May assist with the promotion of thermogenesis
 May Increase endurance
 May Increase energy
It has a comprehensive blend of Capsaicinoids extracted from chill pepper, these include 300mg of Capsaicin (8-methyl-n-vanillyl-trans-6-nonenamide) alongside a 100mg blend of dihydrocapsaicin and nordihydrocapsaicin. Capsaicinoids such as Capsaicin work by making its way to the adrenal gland after ingestion where it may stimulate the release of catecholamine's. Human studies reported that catecholamine secretion after the consumptions of capsaicin at 30mg at breakfast reported a noticeable increase in energy expenditure. These finding have been reinforced by animal studies finding also that catecholamine may release an increase lipolysis in adipocytes and glycogenolysis in the liver.
In addition to the above ingredients the co-administration of Piperine and Emodin in Green Cardarine has a large impact on the body's anti-inflammatory markers and its antioxidant activity. Animal studies observed that these ingredients played a role in the recovery of vital antioxidant enzymes such as glutathione. It was also found to have preventative effects of hepatoxicity on organs such as the liver. This is crucial as the liver is responsible for the detoxification of many free radical toxins.
The Thyroid plays a major role in the increase in metabolism, ThyroSupport has grown in popularity as it has been observed in studies to have outstanding effects on mitochondrial function, lipid metabolism, and its possible positive influence on IGF1 resistance. This can be a major game changer in anyone who goes through a prolonged stage of dieting as the body has mechanisms in place when on low calorie diet to slow the thyroid down.
The icing on the cake to the Green Cardarine is the isopropsynephrine at 50mg, Synephrine is known for its stimulatory effects and its ability to possibly increase lipolysis, the addition of this compound in conjunction with everything else detailed above makes 13 lives Green Cardarine the perfect addition to the supplement stack.
**These statements have not been evaluated by the Therapeutic Goods Administration. This product is not intended to diagnose, treat, cure or prevent any disease. Please consult a qualified professional before undertaking any health, fitness or dietary program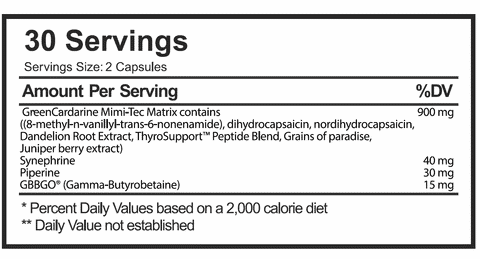 Directions of use: Take one capsule with Food once a day until established tolerance, do not consume on an empty stomach.