Sale!
13 LIVES INSTAHOE (60 Capsules)
Description
13 Lives Instahoe
13 Lives Instahoe is designed with the latest ingredients that are dosed to be effective and give you the best chance at your dream instabod! Ideal for both males and females, this product will make you sweat, give you intense focus and increase your body's ability to effectively burn that stubborn fat!
We at 13 lives have done our research and as a result have seen many fat burners come to market that are little more than flavoured water. Their products aren't dosed to properly alter our muscle/fat ratio. For this reason, we promise to only release products that will show guaranteed change at the end of the products cycle!
Each container is loaded with 60 tablets. (Note: when opening the product you may notice a special scent). This natural scent is a result of our active ingredients, in particular Lean GBB which is designed to make you sweat and increase mental alertness. These ingredients are stacked to synergistically work to increase your body's maximum fat burning potential.
Remember, our products will make you feel hot and hard but you'll like it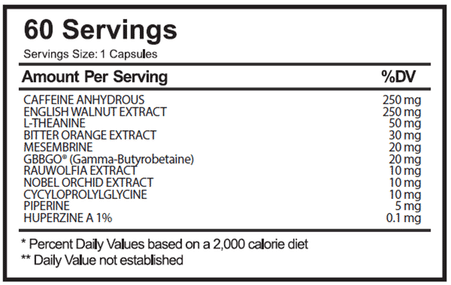 Directions: Consume 1 capsule daily in the morning. This is not a sole source of nutrition and should be consumed in conjunction with a balanced diet.