Sale!
Description
2020 Mass Stack
Get massive with our 2020 Mass Stack
APO Compounds NSC-4060
APO Compounds NSC-4060 is a naturally derived anabolic compound. It is an effective muscle builder, endurance and performance enhancer. It is a highly anabolic compound and is close to its non-legal relatives classified as a pentacyclic triterpenoid.
Benefits of using APO Compounds NSC-4060:
– signals PI3K/ATk pathway, responsible for muscle cell growth and division.
– increases muscle mass
– increase glucose tolerance
– increase strength
– increase exercise capacity
– reduce obesity tolerance
– is anti-catabolic
Formulated Supplementary Sports Food
This product is specifically formulated to assist sports people in achieving specific
performance goals.
This product is useful before, during, and after sustained strenuous exercise.
This product may assist in supplementing the diet with an energy source as may be required during training.
The Key Ingredients of NSC-4060
Ocimum Sanctum (Ursolic Acid)
Liquid Formula™

RSP Creatine Monohydrate
RSP Creatine Monohydrate is a pure Monohydrate with no additives, no fillers and no claims beyond the scientific proof, which Creatine Monohydrate has plenty!
During high-intensity exercise, where maximum effort is produced, the sole source of fuel your body utilises is Phosphocreatine. Supplementing with Creatine Monohydrate has been shown to increase intramuscular phosphocreatine levels and has a direct impact on performance.
Increase Strength
Increase Power
Increase Muscle
Supplementing with Creatine Monohydrate has been shown to be effective in 95% of users and may help increase absolute strength, strength endurance, sprint speed, power output and muscle mass as well.
Known as an accumulative performance enhance, Creatine Monohydrate is best used daily.

Mutant Mass
Designed specifically for the strongest bodybuilders and weightlifters that walk the earth, MUTANT MASS is now being discovered by other hardcore and dedicated athletes seeking the most powerful gainer they can get their hands on. Now, our latest and greatest formula is here ready to help you unleash your fullest potential. When we say "New & Improved, #1 Original Big Bag Muscle Mass Weight Gainer…Higher Protein – Lower Sugar – Great Tasting – Easy Mixing!" and all the other great stuff we rave about when referring to MUTANT MASS, that comes from countless years of researching, developing and re-booting our already multi-award winning formula, to truly make it even better.
Now 52% less sugar than previous formula
56 grams of quality protein per serving
Delivers over 1100 calories per serving
Includes 36 g of naturally occurring BCAAs, EAAs, glutamines
Available in 6 incredibly addictive flavors!
• Now including oats, sweet potato, and avocado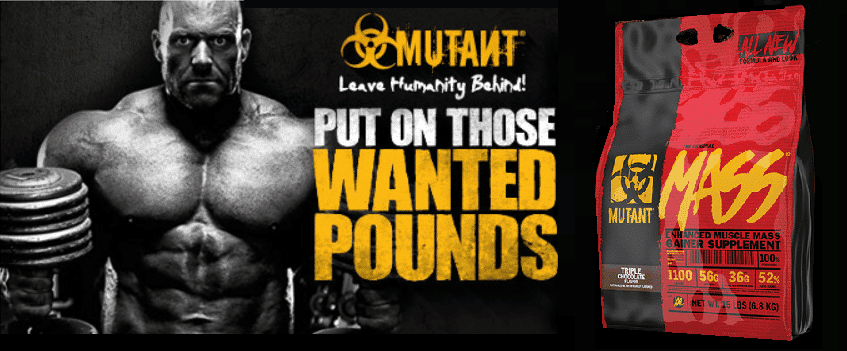 APO Compounds NSC-4060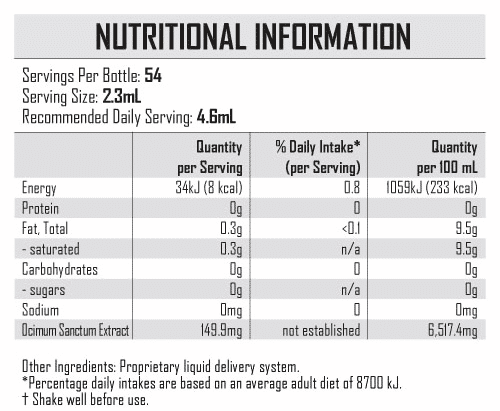 Directions For Use:
Take 2.3mL twice daily mixed in water, milk, or juice by stirring vigorously, shaking, or blending. The food must be consumed with an appropriate fluid intake of one cup. If used during exercise, the food should be consumed in accordance with directions to avoid the possibility of gastro-intestinal upset.
This food is not a soul source of nutrition and should be consumed in conjunction with a healthy diet and regular exercise. This product is a high fat food and should be used for special fat loading strategies.
KEEP OUT OF REACH OF CHILDREN. Not suitable for children under the age of 18 years. Do not use if you are pregnant or breastfeeding. If you are taking medications seek medical advice before consuming this product.
This product does not claim to the prevention, diagnosis, cure, or alleviation of a disease, disorder or condition, or represented in any way to be for therapeutic use or is likely to be taken to be for therapeutic use; whether because of the way in which the food is presented or for any other reason.
RSP Creatine Monohydrate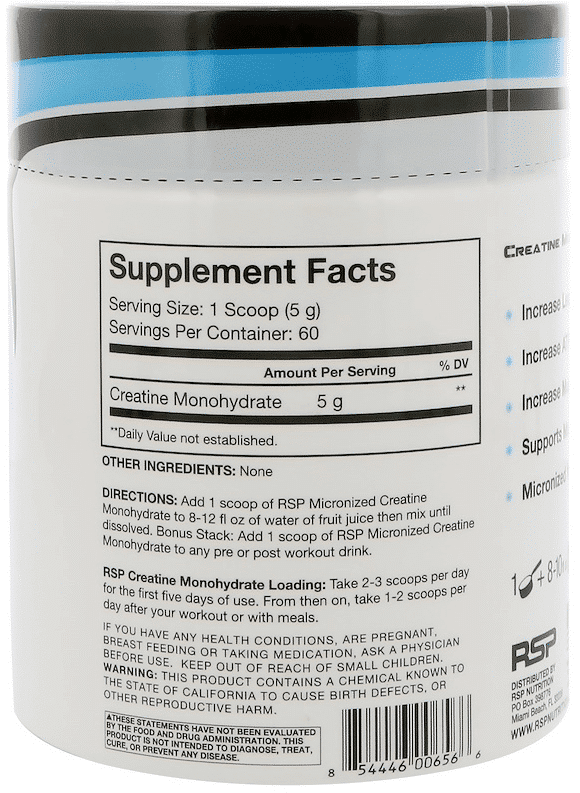 Suggested Use
Add 1 scoop or RSP Micronized Creatine Monohydrate to 8-12 fl oz of water of fruit juice then mix until dissolved. Bonus Stack: Add 1 scoop of RSP Micronized Creatine Monohydrate to any pre or post workout drink.
RSP Creatine Monohydrate Loading: Take 2-3 scoops per day for the first five days of use. From then on, take 1-2 scoops per day after your workout or with meals.
Warnings
If you have any health conditions, are pregnant, breast feeding or taking medication, ask a physician before use. Keep out of reach of small children.
This product contains a chemical known to The State of California to cause birth defects, or other reproductive harm.
Mutant Mass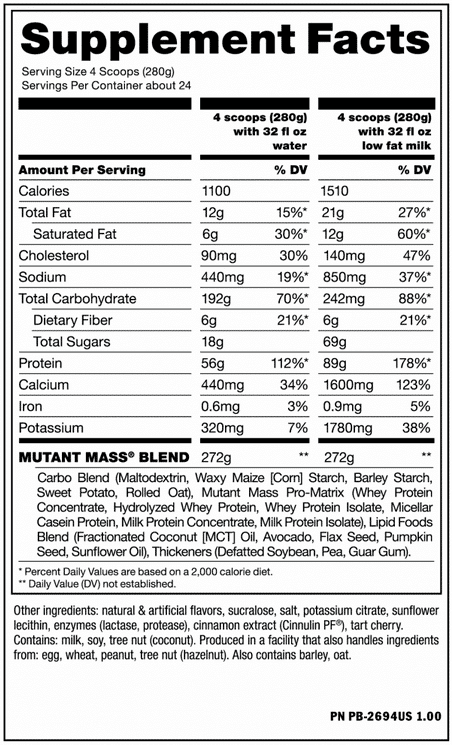 Additional information
| | |
| --- | --- |
| RSP Creatine | unflavoured |
| Mutant Mass 6.8kg | Coconut Cream, Cookies & Cream, Strawberry Banana, Triple Chocolate, Vanilla Ice Cream |