ADVANCED SPORTS NUTRITION XTREME CUTS+ (240g)
$69.95
Description
Advanced Sports Nutrition Xtreme Cuts+
Advanced Sports Nutrition Xtreme Cuts+ is one of the most effective natural fat burners on the market. Now we are proud to say that we have taken fat burning technology to an even higher level with the introduction of ASN's Xtreme Cuts Plus. Through ASN's development of ASN ProBlend (a mixture of high potency fat burning ingredients), Xtreme Cuts Plus has raised the benchmark for fat burning products making it the most effective natural fat burner on the market by far.
Improving on our previous fat burner, Xtreme Cuts Plus increases your metabolic rate through a process known as thermogenesis. This process allows for the "burning" of calories via fat stored in the body. This thermogenic effect allows for the release of calories which are then converted and used as a form of energy by the body. This dual effect of burning fat while still providing a source of energy means that one does not experience any energy crashes symptomatic of so many other "fat loss" products. This makes Xtreme Cuts Plus the ideal fat loss product.
INCREASES METABOLIC RATE
BURNS BODY FAT FAST
CREATES THERMOGENIC EFFECT
INCREASES STRENGTH & ENERGY
INCREASES MENTAL FOCUS
NO ENERGY CRASHES
NO MUSCLE LOSS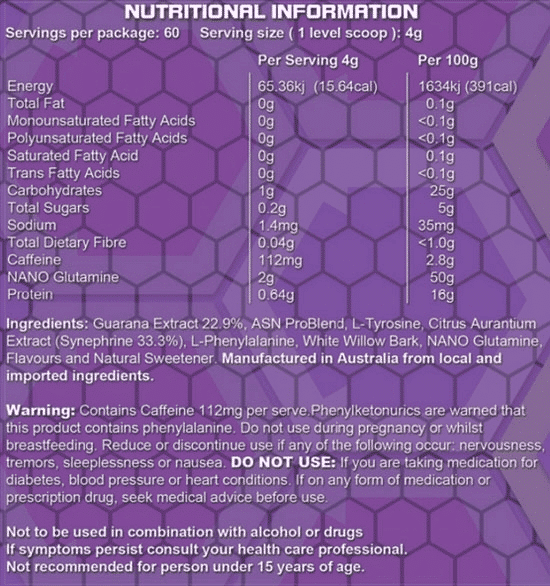 Recommended Use: Adults Only. Take 1 level scoop in the morning & 1 level scoop in the early afternoon. Mix with 250 ml of water in a shaker and consume. If dose is too strong replace 1 level scoop with 1/2 a scoop instead.
NOTE: Not recommended to be taken after 4pm as it may cause lack of sleep or restlessness