Ageless Foundation Laboratories NMN (60 Capsules)
$149.95
Description
Ageless Foundation Laboratories NMN
Ageless Foundation Laboratories NMN is designed to enhance the body's natural production of hormones that may improve physical performance and well-being, and supports a broad range of health benefits.
It also helps preserve the circulatory system, repairs DNA, and has beneficial effects on the preservation of cognitive function. Supplementation with NMN may be of benefit in preserving endurance and mobility.
Preserving the functions of these diverse systems across the body promotes health and longevity and significantly improves quality of life as aging progresses.
-Easily Boosts NAD + Levels
-May Promote Healthy Aging
-May Increase Energy Levels
-Supports Cognitive Function
-May Improve Body Fat Levels & Lean Body Mass
Being "Ageless" is not about how long you live, but how great you look and feel at any age.
**These statements have not been evaluated by the Therapeutic Goods Administration. This product is not intended to diagnose, treat, cure or prevent any disease. Please consult a qualified professional before undertaking any health, fitness or dietary program.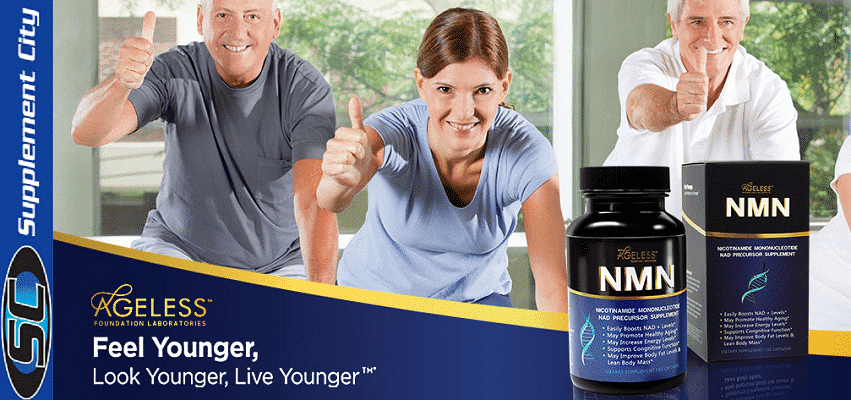 Supplement Facts
Serving Size: 2 Capsules
Servings Per Container: 30
Ingredient Amount Per Serve
NMN (β-Nicotinamide Mononucleotide) 260mg
Non GMO – Gluten Free
Ingredients:
Other Ingredients: Rice Powder, Hypromellose (Vegetable Capsule), Rice Hull Concentrate
Directions:
As a dietary supplement, take two capsules per day on an empty stomach with a glass of water, or as recommended by your healthcare professional.
Manufacturer's Disclaimer
Do not exceed recommended servings. Do not take if pregnant or nursing. If you have any medical condition or are taking any medication, consult a health care professional prior to use. KEEP OUT OF REACH OF CHILDREN.
Protect from heat, light and moisture. Store at temperatures of 59-86F (15-30C).