Alchemist Nutrition Cereal Cream Of Rice (2.25kg)
$68.95
Description
Alchemist Nutrition Cereal Cream Of Rice
Alchemist Nutrition Cereal Cream Of Rice is the breakfast of Champions. Enjoy 20g per serve of slow releasing carbs for your pre or post workout meal or even just a everyday warm breakfast to start your day. It's a perfect substitute for oats and guaranteed to keep you full.
Enjoy as is or get creative and serve with your choice of protein powder for that extra added protein plus any other goodies you like. A few of our favourites we enjoy adding include berries, peanut butter, maple syrup, cinnamon, the list just goes on!
Gluten free, Sugar free, Soy free, Peanut free, no nasties whatsoever, just CLEAN & REAL cream of rice but better!
**These statements have not been evaluated by the Therapeutic Goods Administration. This product is not intended to diagnose, treat, cure or prevent any disease. Please consult a qualified professional before undertaking any health, fitness or dietary program.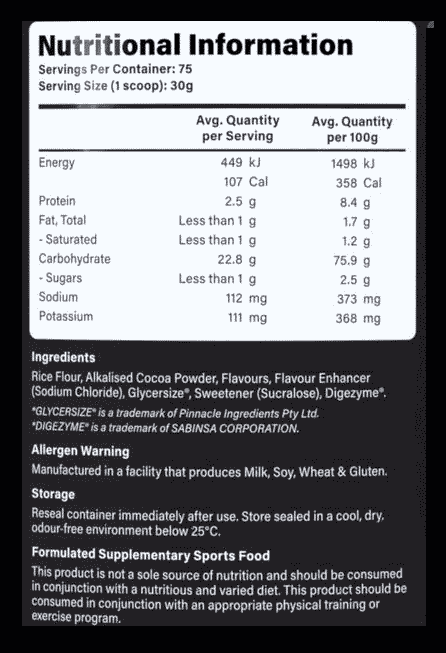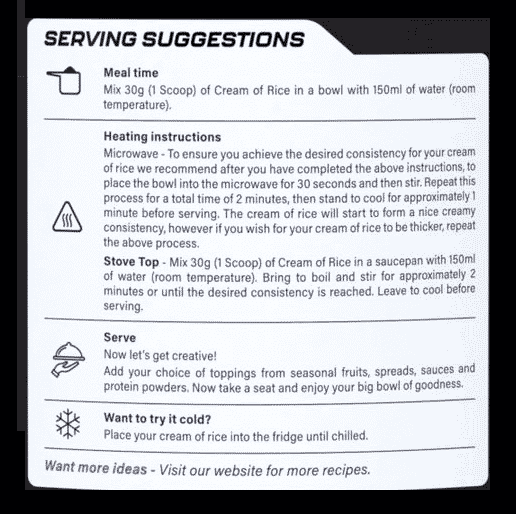 Recipes
Maple Date Cream of Rice Hot Cereal
Ingredients
1. 8 medjool dates
2. 1 Scoop Alchemist Nutrition Cream of Rice cereal.
3. 150ml water
4. ¼ teaspoon salt
5. ⅓ c chopped walnuts
6. 4-6 tablespoon maple syrup
7. 2-3 dates diced for garnish
Remove the pits and stems from the dates and roughly chop. Combine the rice cereal, water, salt and dates into a medium saucepan and bring to a boil over medium-high heat. Lower the heat and simmer, stirring occasionally, until thickened. About 10 minutes. If thicker cereal is desired keep cooking on low and stirring, if thinner is desired add more water or milk.Divide amongst bowls and top with a little maple syrup, chopped walnuts and another chopped date if desired. Serve immediately. The cereal can be kept in an airtight container in the refrigerator up to one week.
COCONUT CREAM OF RICE WITH STRAWBERRIES
Ingredients
1. One Scoop of Alchemist Cream of Rice Cereal
2. 150ml Water
3. 1-2Tablespoons maple syrup or coconut essense
4.100g strawberries sliced or diced
Step 1: Stir cream of rice, maple syrup and water together in a medium sized bowl.
Step 2: Microwave for 2 minutes, whilst stirring every 30 seconds to ensure lumps don't occur.
Step 3: Following 2 minutes in microwave, Let stand for 1 minute.
Step 4: After 1 minute stir and add additional water to desired thickness. Top with strawberries and additional maple syrup to taste. ENJOY!
Eggalicious Cream of Rice
Ingredients
1. 150ml water
2. 1 scoop Alchemist Nutrition Cream of Rice
3. 184g egg whites
4. Dash of vanilla extract
5. Pinch of nutmeg
6. Sprinkle of cinnamon
7. Sprinkle of salt
8. 3g pepitas
9. 1tbls Walden Farms sugar free syrup
Step 1: Heat a small pan over medium/high heat with 150ml of water in it. Once the water comes to a light boil (bubbles forming at the bottom)
Step 3: Add in the one scoop of Alchemist Cream of Rice and stir with rubber scraper for about a minute to cook.
Step 3: Throughout steps 1 and 2 stir often and move quickly as this recipe comes together in no time. Add in the egg whites, vanilla extract, and nutmeg and cook for another 1-2 minutes stirring constantly to cook the eggs in with the cereal.
Step 4: Once there is no longer visible egg liquid in the pan and it is one combined texture the eggs are done. Put into serving bowl and top with cinnamon, salt, pepitas, and Walden Farms syrup.