ALLMAX AMINOCORE (315g)
$59.95
Description
Allmax Aminocore
Allmax Aminocore has revamped same great product but now in our new patent pending SCOOP-LOCK™ system with ERGO-LID™ packaging!
THE EMERGENCE OF A DOMINANT MUSCLE BUILDER
INSTANTLY STIMULATES MUSCLE GROWTH BY 350%
NO FILLERS, ZERO NON-BCAA AMINOS, SUGAR-FREE
FORTIFIED WITH FATIGUE-FIGHTING ALPHA KIC AND B-VITAMINS
ABSOLUTELY INCREDIBLE TASTE!
THE SCIENCE
Cutting-edge research out of the Nobel prize-winning Karolinska Institute has now confirmed what bodybuilders have known for years – high dosage BCAAs delivered in a specific 45:30:25 ratio signals your muscles to grow. And not just grow, but create pure protein synthesis (anabolism) on a scale that must be experienced to be believed!

BCAAs (Branched Chain Amino Acids – Leucine, Valine and Isoleucine) are one of the most effective supplements you can buy. BCAAs improve and maintain your muscle tone like nothing else. Having more muscle than fat creates the most ideal physical shape. A greater degree of lean muscle mass elevates your metabolism and in doing so can increase the rate at which you burn through calories.
lean muscle mass elevates your metabolism
Allmax Aminocore has a whopping 8,180 mg of BCAAs! That's right, over 8 grams of BCAAs in a single serving. Perfect for consumption during your workout to drive up anabolic impact, or away from the gym when you can't get your protein in and you need to prevent the catabolic breakdown of muscle tissue and increase protein synthesis.
THE BEST MIXABILITY, DELIVERY & ABSORPTION
Allmax Aminocore has INSTACLEAR; a cutting-edge solubility technology to BCAA dosage administration. Until now, delivery of a 100% pure 45:30:25 ratio BCAA powder in a potent research directed level (8,180 mg), ideal for anabolic activity, was next to impossible. Aside from being the purest Pharmaceutical Grade BCAAs, our INSTACLEAR™ process FLASH-FREEZE-DRIES our BCAA powder to create a truly soluble and easily-mixed BCAA drink that absorbs in a truly liquid form.
BCAAs HAVE NEVER TASTED THIS GOOD!
AMINOCORE has a taste that is truly exceptional. With absolutely no bitterness or aftertaste commonly found in BCAA drinks, you will love your workout even more with ALLMAX AMINOCORE in your shaker cup!
INTELLIGENT DIETING SUPPORT
Caloric restriction, limiting carbs, increased cardio intensity; all essential for effective dieting, and all rapid ways to breakdown and flush away muscle. The muscle tissue breakdown that takes place when you're dieting reduces your metabolism and your ability to burn calories. Taking AMINOCORE feeds your muscles directly even when dieting and dramatically limits muscle deterioration. The net effect; you retain muscle, melt fat and maintain a higher metabolism. AMINOCORE is the dieting secret you've been looking for.
ALL BCAAs ARE NOT CREATED EQUAL!
When you're comparing one BCAA to the other, look closely at the formula – does it include Glutamine passed off as real BCAAs? In contrast, the AMINOCORE label shows you precise BCAA amounts. Glutamine has its place, but it is not a Branched Chain Amino Acid. AMINOCORE includes 8,180 mg of real BCAAs, not glutamine. AMINOCORE is 100% pure, 45:30:25 ratio BCAAs. With added Ketoisocaproic acid (KIC) to further enhance the buffering of lactic acid (muscle toxin) and increase the levels of L-Leucine at the site of the muscle. AMINOCORE contains additional highly bioavailable B-vitamins not only enhance the anabolic environment, they help to release additional metabolic energy.
Most people who train hard don't understand why they can't grow like they should. Every serious bodybuilder knows the tried and-tested impact of large dose BCAAs. Packing on serious lean muscle is a matter of reversing the body's natural tendency to break down muscle (catabolism). BCAAs signal the body to build muscle and when taken at the right time, can increase the anabolic effect.
**These statements have not been evaluated by the Therapeutic Goods Administration. This product is not intended to diagnose, treat, cure or prevent any disease. Please consult a qualified professional before undertaking any health, fitness or dietary program.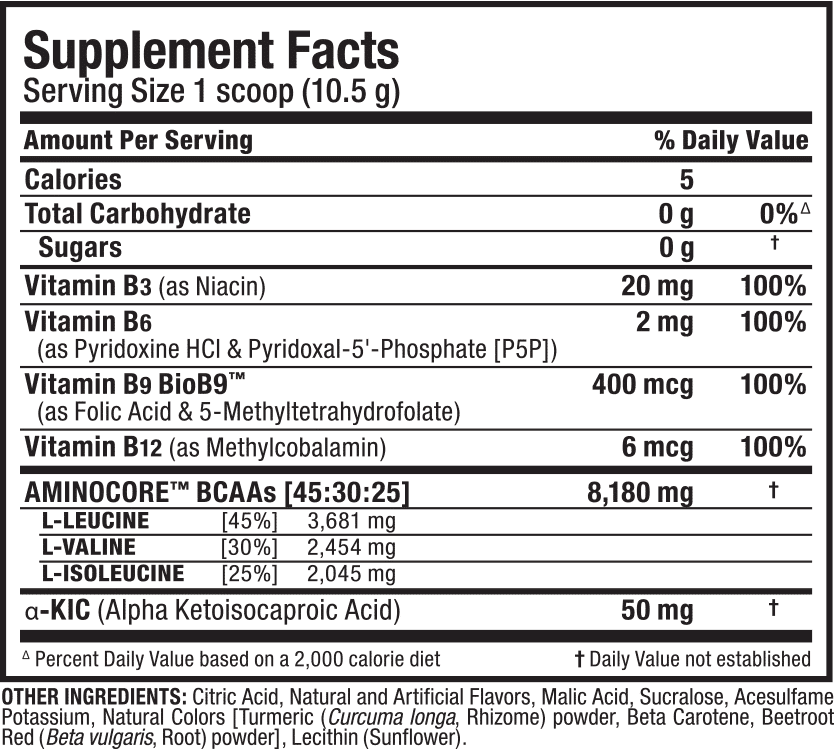 Directions:
To activate protein synthesis and increase muscle recovery, take 1 scoop of Aminocore during weight training or any athletic event. On non-training days, Aminocore can be taken anytime on an empty stomach. Mix one scoop (10.5 g) into a 17 oz. (approx. 500 ml) bottle of water or a tall glass of water (2 cups). Shake or stir well. Take during workouts.
Additional information
| | |
| --- | --- |
| Flavour | Fruit Punch, Watermelon |