Alpha Neon Dreams (225g)
$89.95
Description
Alpha Neon Dreams
Alpha Neon Dreams is a fantastic edition to the Alpha Neon Range, an extremely effective sleep product.
As we all know sleep is one of the biggest recovery aids in training. Without optimum levels of sleep training suffers as well as our mood. Neon Dreams has been formulated to optimise natural over night recovery while you are at rest, supporting your natural sleep pattern.
In optimising the sleeping process its may increase Gh and testosterone levels while you sleep to maximise recovery and help fight stresses of over training and achieving a leaner physique.
In addition to the sleep benefits , the carefully selected ingredients promote relaxation of the body and mind so that you can relax before you next insane Alpha Neon fuelled workout!!
**These statements have not been evaluated by the Therapeutic Goods Administration. This product is not intended to diagnose, treat, cure or prevent any disease. Please consult a qualified professional before undertaking any health, fitness or dietary program.

Serving Size: 7.5g
Servings Per Container: 30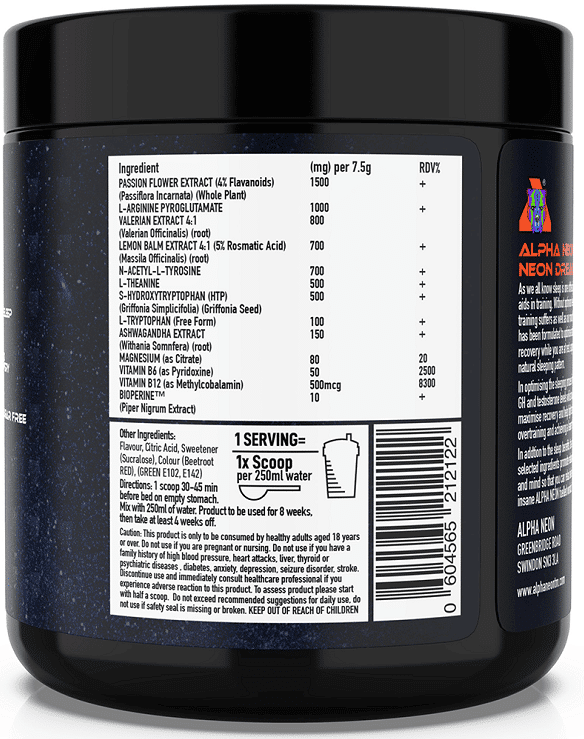 Directions:
Take 1 scoop 20-45 minutes before bed on an empty stomach. Mix with 250ml of water. Product to be used for 8 weeks, then take at least 4 weeks off.