APO COMPOUNDS 20-E (125ml)
$128.95
Description
APO Compunds 20-E
APO Compunds 20-E is a naturally derived anabolic compound. It is an effective muscle builder, endurance and performance enhancer. It exhibits a strong hypertrophic effect on muscle fibres. It is known as an ecdysteroid.
Benefits of using 20-E
– exhibits a strong hypertrophic on muscle fibres
– increases protein synthesis
– can be seen to be as hypertrophic to similar compounds D bol and Tre nbolex.
– activiates ATk cellular signalling pathways, the same pathways as IGF-1 uses.
– it has no androgenic activity making it safe for women
Formulated Supplementary Sports Food
This product is specifically formulated to assist sports people in achieving specific performance goals.
This product is useful before, during, and after sustained strenuous exercise.
This product may assist in supplementing the diet with an energy source as may be required during training.
The Key Ingredients of 20-E
Cyanotis Arachnoides (20-Hydroxyecdysone)
Liquid Formula™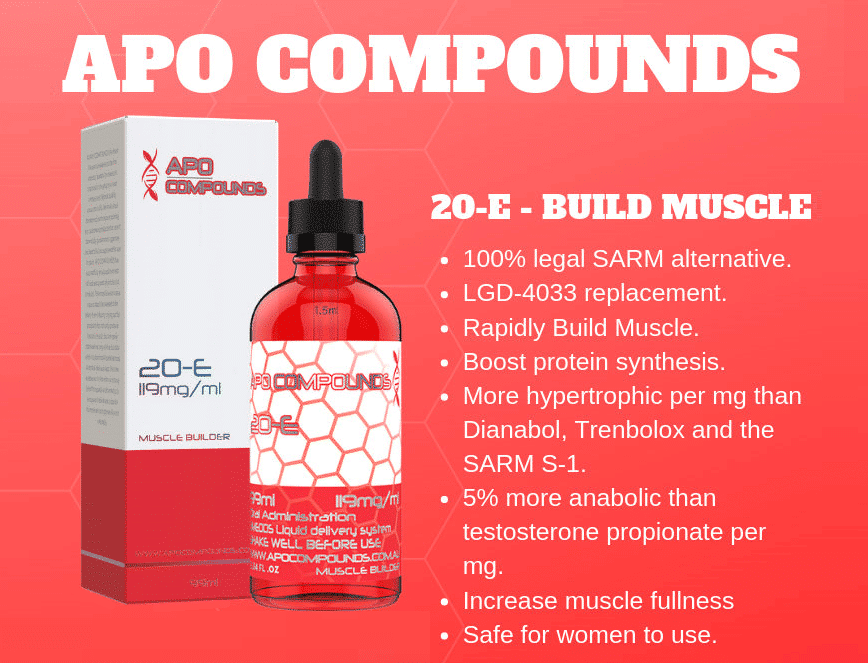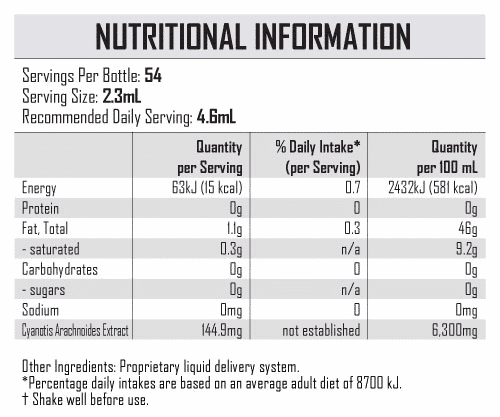 Directions For Use:
Take 2.3mL twice daily mixed in water, milk, or juice by stirring vigorously, shaking, or blending. The food must be consumed with an appropriate fluid intake of one cup. If used during exercise, the food should be consumed in accordance with directions to avoid the possibility of gastro-intestinal upset.
This food is not a soul source of nutrition and should be consumed in conjunction with a healthy diet and regular exercise. This product is a high fat food and should be used for special fat loading strategies.
KEEP OUT OF REACH OF CHILDREN. Not suitable for children under the age of 18 years. Do not use if you are pregnant or breastfeeding. If you are taking medications seek medical advice before consuming this product.
This product does not claim to the prevention, diagnosis, cure, or alleviation of a disease, disorder or condition, or represented in any way to be for therapeutic use or is likely to be taken to be for therapeutic use; whether because of the way in which the food is presented or for any other reason.