APO COMPOUNDS 23-T (60 Capsules)
$93.95
Description
APO Compounds 23-T
APO Compounds 23-T is a powerful anti-estrogen and a selective estrogen receptor modulator (SERM). This is part of APO Compounds PCT range.
Benefits to using APO Compounds 23-T
– It has a significant affinity with estrogen receptor-alpha and is a full antagonist of estrogen receptor-beta, it is a potent anti-estrogen.
– It has shown to suppress estrogen
– It is helpful for estrogen control during cycle and can be used as a replacement for Nolva during Post Cycle Therapy.
– It also shows slight aromatase inhibitory activity.
– Can be used to combat gyno as it is a potent anti-estrogen for MCF-7.
Formulated Supplementary Sports Food
This product is specifically formulated to assist sports people in achieving specific performance goals.
This product is useful before, during, and after sustained strenuous exercise.
This product may assist in supplementing the diet with an energy source as may be required during training.
The Key Ingredients of 23-T
Fragaria Ananassa (Ellagic Acid)
Gelatine Capsule
Magnesium Stearate
Microcrystalline Cellulose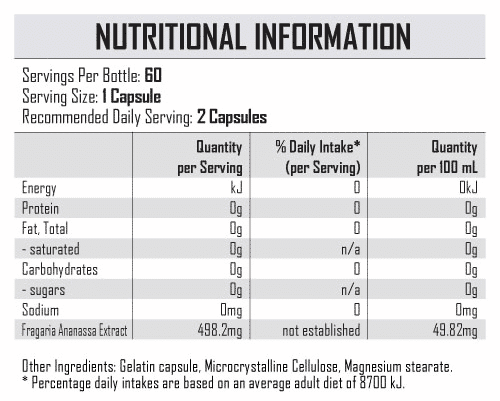 Directions For Use:
Take one capsule twice daily for CYCLE SUPPORT, follow PCT PROTOCOL for PCT SUPPORT. If used during exercise, the food should be consumed in accordance with directions to avoid the possibility of gastro-intestinal upset.
This food is not a soul source of nutrition and should be consumed in conjunction with a healthy diet and regular exercise.
KEEP OUT OF REACH OF CHILDREN. Not suitable for children under the age of 18 years. Do not use if you are pregnant or breastfeeding. If you are taking medications seek medical advice before consuming this product.
This product does not claim to the prevention, diagnosis, cure, or alleviation of a disease, disorder or condition, or represented in any way to be for therapeutic use or is likely to be taken to be for therapeutic use; whether because of the way in which the food is presented or for any other reason.