APO COMPOUNDS CB2-MAX (125ml)
$128.95
Description
APO Compounds CB2-Max
APO Compounds CB2-Max is hemp oil that's been formulated to be infused with a legal dietary cannabinoid called BCP (β-Caryophyllene)
Edible Oil
BCP Infused Hemp Oil
Contributes to normal growth and development
Contributes to cell protection from free radical damage
Source of omega 3s and omega 6s
The Key Ingredients of CB₂-MAX
Capoiba Oil Extract (β-Caryophyllene)
Hemp Oil
Liquid Formula 11615™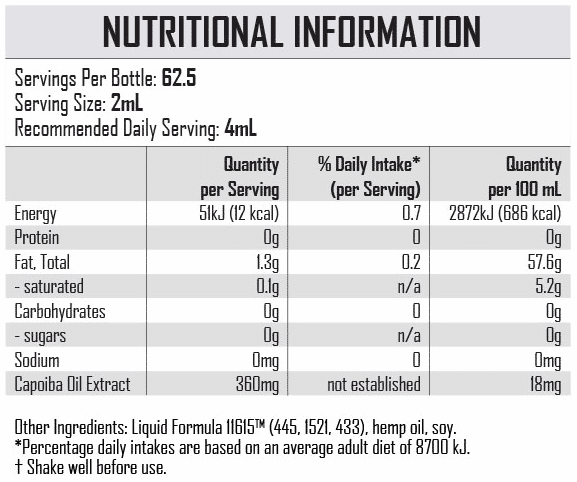 The Key Ingredients of CB₂-MAX
Capoiba Oil Extract (β-Caryophyllene)
Hemp Oil
Liquid Formula 11615™
Directions For Use: Take 2mL twice daily mixed in water, milk, or juice by stirring vigorously, shaking, or blending.
KEEP OUT OF REACH OF CHILDREN. Not suitable for children under the age of 18 years. Do not use if you are pregnant or breastfeeding. If you are taking medications seek medical advice before consuming this product.
This product does not claim to the prevention, diagnosis, cure, or alleviation of a disease, disorder or condition, or represented in any way to be for therapeutic use or is likely to be taken to be for therapeutic use; whether because of the way in which the food is presented or for any other reason.