APO COMPOUNDS CLEN-516 (60 Capsules)
$108.95
Description
APO Compounds Clen-516
APO Compounds Clen-516 is a cutting agent with metabolism boosting and lipotropic properties. It is formulated according to recent clinical studies showing that the dosage we use has the fat burning potential of eating 225 chillies, without the unwanted side effect you can imagine that would have!
Benefits of using APO Compounds CLEN-516
– Increases metabolism
– will burn more calories per day without doing exercise
– will reduce appetite
– increases fat oxidation
– doesn't increase heart rate or cause stimulation
Formulated Supplementary Sports Food
This product is specifically formulated to assist sports people in achieving specific performance goals.
This product is useful before, during, and after sustained strenuous exercise.
This product may assist in supplementing the diet with an energy source as may be required during training.
The Key Ingredients of CLEN-516
Capsicum frutescens (Capsaicin)
Thykol™
Gelatine Capsules
Beadlet Technology
Magnesium Stearate
Microcrystalline Cellulose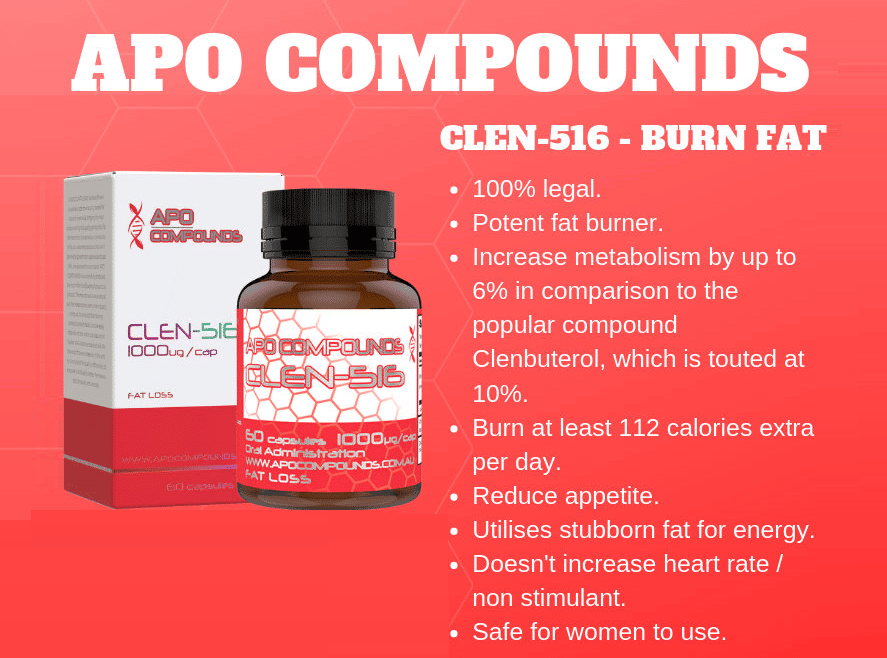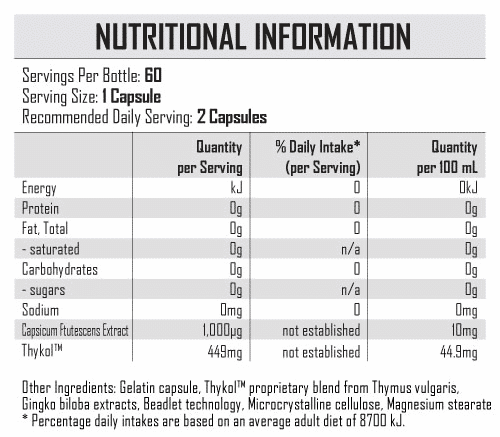 Directions For Use:
Take one capsule twice daily with food. If used during exercise, the food should be consumed in accordance with directions to avoid the possibility of gastro-intestinal upset.
This food is not a soul source of nutrition and should be consumed in conjunction with a healthy diet and regular exercise.
KEEP OUT OF REACH OF CHILDREN. Not suitable for children under the age of 18 years. Do not use if you are pregnant or breastfeeding. If you are taking medications seek medical advice before consuming this product.
This product does not claim to the prevention, diagnosis, cure, or alleviation of a disease, disorder or condition, or represented in any way to be for therapeutic use or is likely to be taken to be for therapeutic use; whether because of the way in which the food is presented or for any other reason.