APOC 18A STEROL II ADVANCED® (120ml) TURKESTERONE
$104.95
Description
APOC 18A Sterol II Advanced
APOC 18A Sterol II Advanced is used for dietary support of natural anabolism. Anabolism is one of the body's natural processes of metabolism. A mechanism where the body uses nutrients to repair, build, maintain, and regulate.
Turkesterone (scientifically known as 18α-hydroxyecdysone) is a nutrient and a sterol found in ordinary food, particularly wheat. It is not always possible for everyone to consume a diet which maintains the maximum acceptable quantity of turkesterone content of grains in accordance with the Australian Dietary Guidelines to help reach that maximum acceptable quantity.
Sterol II Advanced® has incorporated a cyclodextrin complex food delivery system technology. Cyclodextrin complexes improve nutrient digestion throughout the gut leading to enhanced nutrient absorption and greater metabolism.
**These statements have not been evaluated by the Therapeutic Goods Administration. This product is not intended to diagnose, treat, cure or prevent any disease. Please consult a qualified professional before undertaking any health, fitness or dietary program.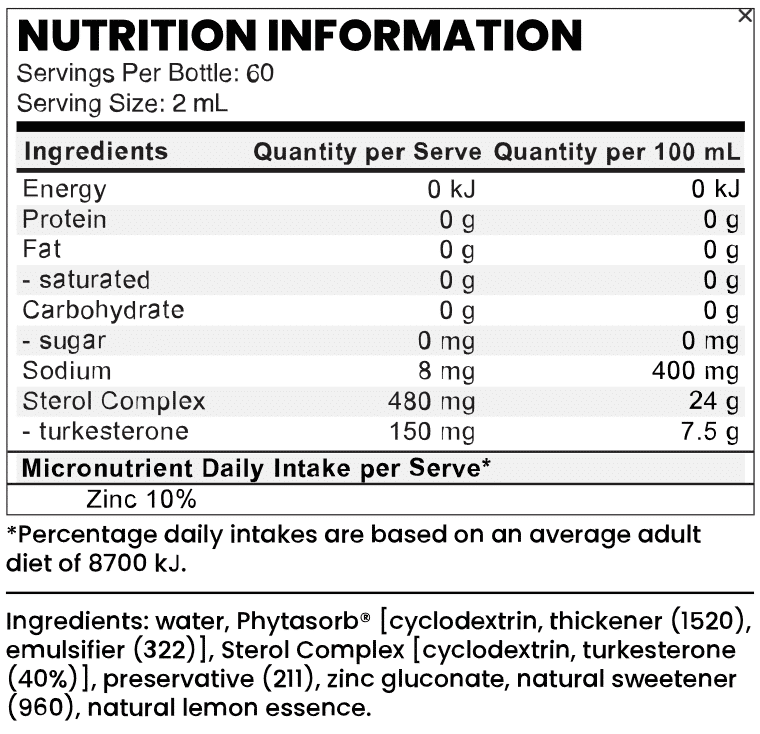 Directions:
2 mL twice a day (total 4 mL daily). Shake bottle before use. Measure liquid in the oral spill-less utensil and swallow, or add your serve into 1 cup (250 mL) of liquid and drink. Max 2 serves daily unless directed by a healthcare professional. A spill-less utensil has been included inside box for user assistance. Refer to website for further information & instructions on using the spill-less utensil. Product to be used under the supervision of a healthcare professional. Seek healthcare advice if you wish to use this product for a specific medical purpose or for serving sizes for ages under 18.
FOOD WARNINGS
KEEP OUT OF REACH OF CHILDREN.
Not recommended for children under 18, unless directed by a health practitioner. Do not use if pregnant or breastfeeding. Not suitable as a sole source of nutrition. If taking medications or have a health condition, seek advice from a health practitioner before taking this product.
Do not use if tamper seal is broken or open.
STORAGE. Keep closed in a cool, dry place, away from sunlight.