APOC 23T (125ml) POMEGRANATE ADVANCED®
$89.95
Description
APOC 23T
One serve of APOC 23T is equivalent to drinking the juice of 2 pomegranates! That's 120 pomegranates per bottle! Gallic acid is a nutrient and a tannin found in many herbs, grains, vegetables, and fruits. Most notably in pomegranate, nuts, and berries. Some people may ingest an adequate amount of gallic acid from food, but others ingest little to none. The amounts individuals ingest can vary by up to 12,000%. It is not always possible for everyone to consume a diet which maintains the maximum acceptable quantity of gallic acid. Pomegranate Advanced® supplements the regular diet for the gallic acid naturally present in pomegranate juice in accordance with the Australian Dietary Guidelines to help individuals reach that maximum acceptable quantity.
APOC 23T IS FORMULATED WITH A DELIVERY SYSTEM
APOC 23T has incorporated a cyclodextrin complex food delivery system technology. Cyclodextrin complexes improve nutrient digestion throughout the gut leading to enhanced nutrient absorption and greater metabolism.
This product was formally known as APO Compounds 23-T

**These statements have not been evaluated by the Therapeutic Goods Administration. This product is not intended to diagnose, treat, cure or prevent any disease. Please consult a qualified professional before undertaking any health, fitness or dietary program.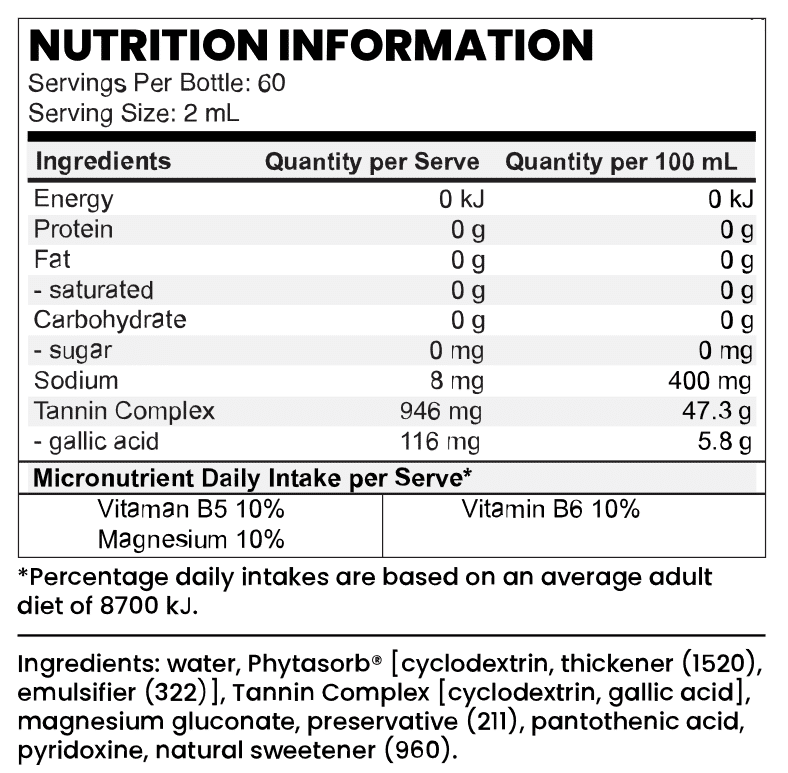 Directions For Use:
2 ml twice a day (total 4 mL daily). Shake bottle before use. Measure liquid in the oral spill-less utensil and swallow, or add your serve into 1 cup (250 mL) of liquid and drink. Max 2 serves daily unless directed by a healthcare professional. A spill-less utensil has been included inside box for user assistance. Refer to website for further information & instructions on using the spill-less utensil. Product to be used under the supervision of a healthcare professional. Seek healthcare advice if you wish to use this product for a specific medical purpose or for serving sizes for ages under 18.
FOOD WARNINGS
KEEP OUT OF REACH OF CHILDREN.
Not recommended for children under 18, unless directed by a health practitioner. Do not use if pregnant or breastfeeding. Not suitable as a sole source of nutrition. If taking medications or have a health condition, seek advice from a health practitioner before taking this product.
Do not use if tamper seal is broken or open.
STORAGE. Keep closed in a cool, dry place, away from sunlight.