Sale!
APOC 5A699 NECTAR OF THE GODS® (Value Pack)
Description
APOC 5A699 Nectar Of The Gods
APOC 5A699 Nectar Of The Gods extract infused beverage. The famous pharaoh Queen Nefertiti praised asparagus. She revered it as 'food from the Gods'. Asparagus' close cousin Smilax sieboldii is famous for its constituent of 5α-hydroxylaxogenin. 5α-hydroxylaxogenin was studied by the Russian scientist Vladimir Syrov[1]. This asparagus family bioactive was nicknamed the Russian secret, whilst Queen Nefertiti's called asparagus 'food of the Gods'. APOC has respected our ancestors by developing a superior daily dose of 1.3g of complexed 5α-hydroxylaxogenin into the beverage Nectar Of The Gods®.
3 Month Supply!
† For the dietary support of muscle maintenance is established from the health claims from a food-relationship with vitamin C, pantothenic acid, vitamin B₆, folate, and magnesium.
[1]  Syrov VN & Kurmukov AG, 1976, 'Experimental study of the anabolic activity of 6-ketoderivatives of certain natural sapogenins', Farmakol Toksikol, 39, no. 5, pp. 631-635.
This product was formally known as APO Compounds 5A-699

**These statements have not been evaluated by the Therapeutic Goods Administration. This product is not intended to diagnose, treat, cure or prevent any disease. Please consult a qualified professional before undertaking any health, fitness or dietary program.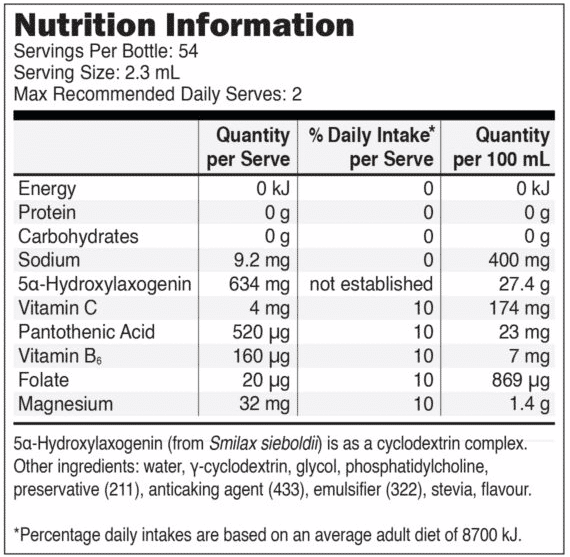 Directions:
Shake before use. Measure 2.3 mL in the dropper. Add measured serve into a cup of water or juice and drink. Repeat twice daily, morning and night. Clear out dropper.
KEEP OUT OF REACH OF CHILDREN. Not suitable for children under the age of 18 years. Do not use if you are pregnant or breastfeeding. If you are taking medications or have a health condition seek medical advice before taking this product.
This food is not a soul source of nutrition and should be consumed with a healthy diet and regular exercise. Health effects must be considered in the context of a healthy diet involving the consumption of a variety of foods.
The dropper is made of glass. DO NOT USE if chipped or broken.
Store in a cool dry place out of sunlight. Consume within two months of opening. If any solids appear on the bottom of the bottle, this is normal. Product is still safe to use, including ingesting the solids.