APOC CLN516 (125ml) STIMULOUS®
$104.95
Description
APOC CLN516
APOC CLN516 (Stimulous®) is formulated with octopamine, resveratrol from grapes, and our proprietary blend of Citrakoids™. Octopamine is a metabolite of the famous synephrine[1]. Octopamine is produced not only in the fruit of bitter orange[2] but also by the human body[3]. Octopamine is thought to be more active than synephrine.
Citrakoids™ are a proprietary blend of citrus alkaloids complexed with our unique food delivery system. Citrus alkaloids are bioactive components of food found in citrus fruit. Citrakoids™ is a sublime blend of synephrine, naringenin, hesperidin, and nootkatone.
† For the dietary support of energy is established from the health claims from a food-relationship with niacin, pantothenic acid, and iodine.
[1]  James MI, Midgley JM & Williams CM, 1983, 'The metabolism and biosynthesis of (+/-)-o-octopamine and (+/-)-o-synephrine in the rat', Journal of Pharmacy and Pharmacology, vol. 35, no. 9, pp. 559-565.
[2]  Nelson BC, Putzbach K, Sharpless KE & Sander LC, 2007, 'Mass Spectrometric Determination of the Predominant Adrenergic Protoalkaloids in Bitter Orange (Citrus aurantium)', Journal of Agricultural and Food Chemistry, vol. 55, pp. 9769-9775.
[3]  Kakimoto Y & Armstrong MD, 1962, 'On the Identification of Octopamine in Mammals*', The Journal of Biological Chemistry, vol. 237, no. 2, pp. 422-427.
This product was formally known as APO Compounds Clen-516
**These statements have not been evaluated by the Therapeutic Goods Administration. This product is not intended to diagnose, treat, cure or prevent any disease. Please consult a qualified professional before undertaking any health, fitness or dietary program.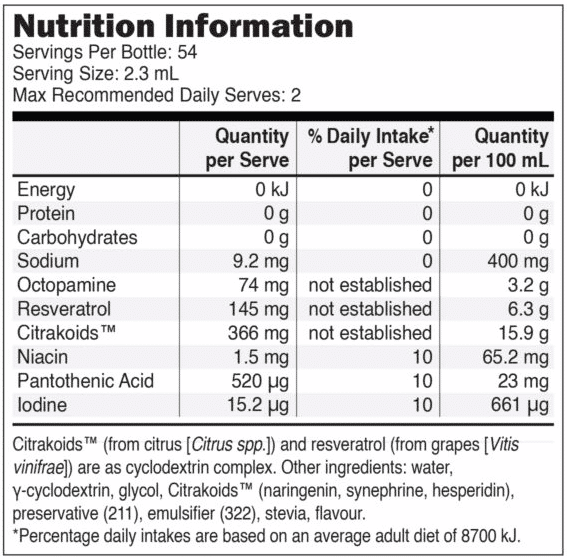 Shake before use. Measure 2.3 mL in the dropper. Add measured serve into a cup of water or juice and drink. Repeat twice daily, morning and lunch. Clear dropper.
KEEP OUT OF REACH OF CHILDREN. Not suitable for children under the age of 18 years. Do not use if you are pregnant or breastfeeding. If you are taking medications or have a health condition seek medical advice before taking this product.
This food is not a soul source of nutrition and should be consumed with a healthy diet and regular exercise. Health effects must be considered in the context of a healthy diet involving the consumption of a variety of foods.
The dropper is made of glass. DO NOT USE if chipped or broken.
Store in a cool dry place out of sunlight. Consume within two months of opening. If any solids appear on the bottom of the bottle, this is normal. Product is still safe to use, including ingesting the solids.