APOC N4674 (125ml) LIPOLICIOUS®
$114.95
Description
APOC N4674
APOC N4674 (Lipolicious) Extract Infused Beverage, Chillies contain compounds that give them the heat we all know too well. But did you know that capsicums contain almost identical compounds? The only difference is the capsicum heat-compounds don't affect your mouth. APOC has delicately crafted these capsicum heat-compounds with resveratrol from grapes, menthol from mint, and our proprietary blend of Citrakoids™ into a beverage that's just Lipo-licious.
Citrakoids™ are a proprietary blend of citrus alkaloids complexed with our unique food delivery system. Citrus alkaloids are bioactive components of food found in citrus fruit. Citrakoids™ is a sublime blend of synephrine, naringenin, hesperidin, and nootkatone.
This product was formally known as APO Compounds N-4674

**These statements have not been evaluated by the Therapeutic Goods Administration. This product is not intended to diagnose, treat, cure or prevent any disease. Please consult a qualified professional before undertaking any health, fitness or dietary program.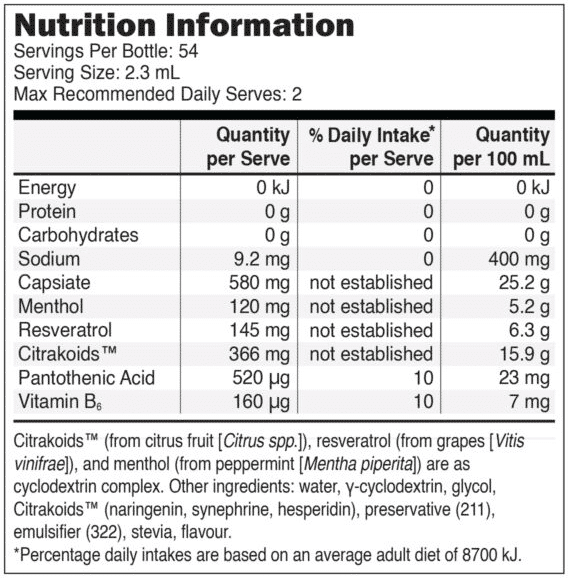 Shake before use. Measure 2.3 mL in the dropper. Add measured serve into a cup of water or juice and drink. Repeat twice daily, morning and lunch. Clear dropper.
KEEP OUT OF REACH OF CHILDREN. Not suitable for children under the age of 18 years. Do not use if you are pregnant or breastfeeding. If you are taking medications or have a health condition seek medical advice before taking this product.
This food is not a soul source of nutrition and should be consumed with a healthy diet and regular exercise. Health effects must be considered in the context of a healthy diet involving the consumption of a variety of foods.
The dropper is made of glass. DO NOT USE if chipped or broken.
Store in a cool dry place out of sunlight. Consume within two months of opening. If any solids appear on the bottom of the bottle, this is normal. Product is still safe to use, including ingesting the solids.