AST SPORTS SCIENCE URSO-X (180 Capsules)
$59.95
Description
AST Sports Science Urso-X
AST Sports Science Urso-X is a powerful new supplement containing the unique all-natural compound Ursolic Acid that has been shown in scientific studies to increase lean muscle mass and reduce body fat.
Urso-X works by enhancing lean muscle insulin/IGF-I signaling and inhibiting catabolic lean muscle mRNA expression – this triggers muscle growth and inhibits catabolic activity. Along with these anabolic and anti-catabolic effects. Urso-X also has a significant effect on reducing body fat. ¹
Urso-X is a new state-of-the-art natural anabolic/anti-catabolic substrate designed to help you build muscle and decrease body fat fast.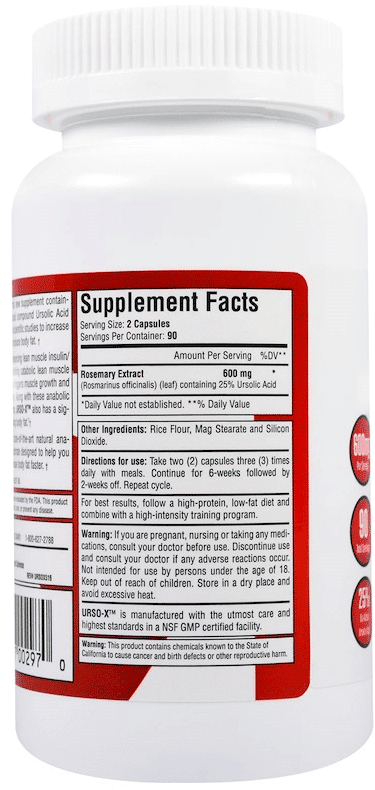 Other Ingredients:
Rice flour, mag stearate and silicon dioxide.
URSO-X is manufacture with the utmost care and highest standard in a NSF GMP certified facility.
Suggested Use:
Take two (2) capsules three (3) times daily with meals. Continue for 6 weeks followed by 2-weeks of. Repeat cycle.
For best results, follow a high-protein, low-fat diet and combine with a high-intensity training program.
Warnings:
If you are pregnant, nursing or taking any medications, consult your doctor before use. Discontinue use and consult your doctor if any adverse reactions occur. Not intended for use by person under the age of 18. Keep out of reach of children. Store in a dry place and avoid excessive heat.
This product contains chemicals known to the State of California to cause cancer and birth defects or other reproductive harm.