ATP Science Slice N Dice (225g)
$67.95
Description
ATP Science Slice N Dice
ATP Science Slice N Dice is a thermogenic fat burner that uses powerful herbal and lab-made extracts to provide a strong fat-burning supplement. This doubles up as a powerful energy-enhancing supplement with a clean energy and sustained release – which means no crashes or "caffeine dumps".
Combining the very best ingredients that science has to offer, Slice N Dice could be the missing factor to help you reach your goals and smash your 'Summer body'. Created by the team of experts at ATP Science, Slice N Dice® uses only the best ingredients at optimal doses to create a synergistic enhancing pre-workout designed to really help you SWEAT it out, bring the burn and enhance your workouts and performance. Our team really nailed this recipe and the flavours which is why we cannot WAIT for you to try it!
Slice N Dice is a great choice for improving mental and physical performance while you lose weight. Its thermogenic ingredients also support energy levels and combat exercise fatigue, even when you're not eating as much. This helps you perform better in the gym, doubling up on the benefits to build more muscle and burn more fat.
Gynostemma adds a wide range of extra herbal benefits, improving your immune system and protecting you from the worst effects of different types of stress. It has powerful adaptogenic properties to protect your cells, supports better heart health, and can even improve how you handle blood sugar.
ATP Slice N Dice works multiple sets of paired benefits. Better fat loss and performance. Better energy levels and recovery. Better workout performance and a boost to your health.
This is a great product if you want to burn more fat without compromising on how you feel or perform. It's a great balance for all the best health and fitness improvements in one place – burning fat and improving everything else along the way!
Key Features
Thermogenic Pre-Workout
Includes English Walnut, Bitter Orange, ZumXR® & Gynostemma.
10/10 Taste
NO artificial colours or flavours
**These statements have not been evaluated by the Therapeutic Goods Administration. This product is not intended to diagnose, treat, cure or prevent any disease. Please consult a qualified professional before undertaking any health, fitness or dietary program.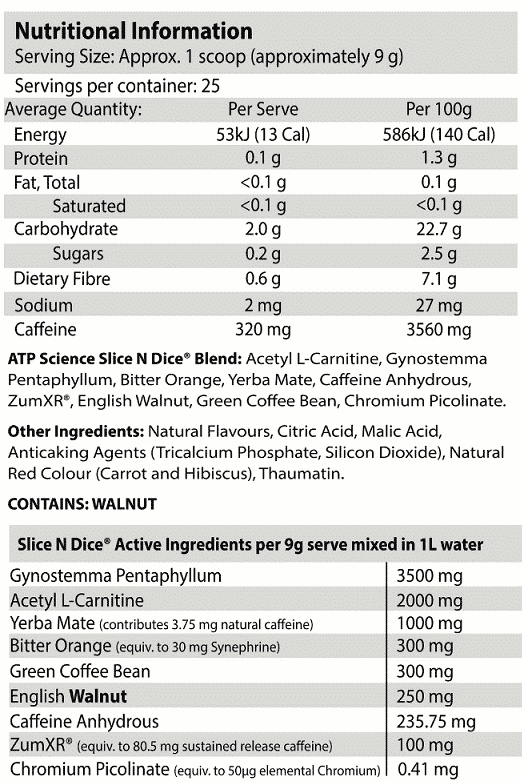 Directions:
Add 1 scoop into 1L of cold water, shake up, and enjoy! We recommend storing your powder supplements in the fridge or freezer to avoid clumping.
Contains: WALNUTS
Additional information
| | |
| --- | --- |
| Flavour | Hawaiian Splice, Juicy Apple Crush, Red Gummy |