AXE & SLEDGE DEMO DAY (990g) CARBOHYDRATES
$79.95
Description
Axe & Sledge Demo Day
Axe & Sledge Demo Day is designed to add the competitive edge to your training program. We used patented ingredients to push the carbohydrates into your muscles during your workout, leaving you with a skin stretching pump, and energy (glycogen) to work harder, longer! demo day is for anyone that is looking for more sustained energy levels, or have a rounder & fuller look to your muscles by maintaining the pump throughout your workout. demo day can be used pre, intra, or post workout depending on your goals and needs.
Axe & Sledge Demo Day uses a variety of patented carbohydrates including:
Carb10™ 15g – Sourced from pea's, this low-gi carbohydrate increases glycogen stores without causing an insulin spike or gastric upset.
Cluster Dextrin® 12g – Another readily & easy to digest carbohydrate source that keeps blood sugar levels stable.
Palatinose™ 2g – A low-GI carbohydrate source that doesn't cause an insulin spike.
Axe & Sledge have not stopped there though, they have also included GlycerPump to increase nutrient delivery and pumps, along with Cinnamon Bark & Alpha Lipoic Acid to boost insulin sensitivity.
If you are looking for a supplement to increase your performance while training, increase energy levels, deliver a skin-stretching pump or give you a fuller look, then look no further than the powerhouse Demo Day.
**These statements have not been evaluated by the Therapeutic Goods Administration. This product is not intended to diagnose, treat, cure or prevent any disease. Please consult a qualified professional before undertaking any health, fitness or dietary program.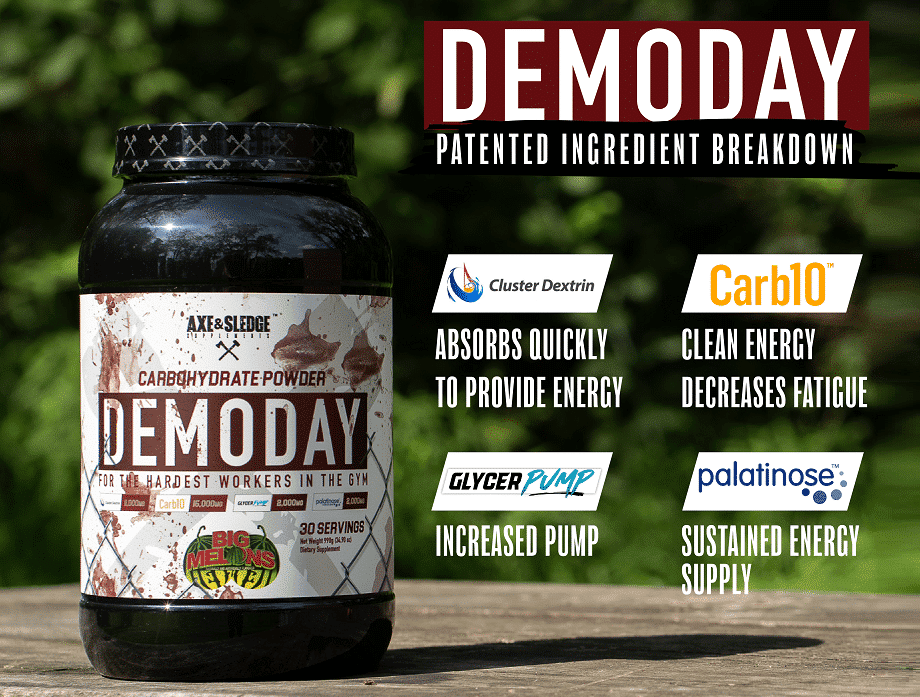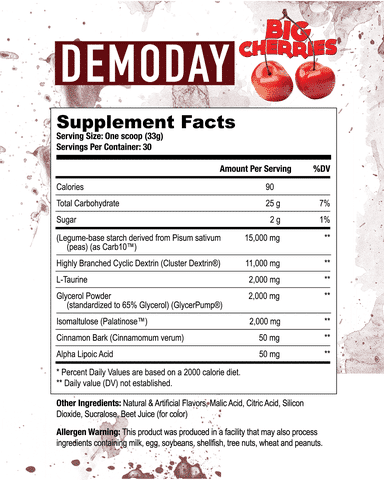 Directions:
As a dietary supplement, mix 1 scoop in a shaker cup with 12 oz of water and drink 30 minutes before exercise. You can take this product multiple ways: BEFORE TRAINING – Drink 1 serving 30 minutes before exercise. DURING TRAINING – Sip on 1 serving during exercise. AFTER TRAINING – Drink 1 serving after exercise.
Additional information
| | |
| --- | --- |
| Flavour | Big Cherries, Big Melons, Naked |