AXE & SLEDGE HYDRAULIC (400g) STIM-FREE PRE-WORKOUT
$68.95
Description
Axe & Sledge Hydraulic
Axe & Sledge Hydraulic is the first stimulant free pre-workout of its kind. A pre-workout formula free of any stimulants that you can actually fell! Get the blood coursing through your veins and a warm sensation driven to the body part you are working! We were able to combine patented ingredients to enhance the mind-to-muscle connection, with an increased level of mental focus, increase blood flow, power & strength, and create more roundness and fullness to the muscles. Hydraulic is a revolutionary pump formula designed specifically by Seth Feroce.

Here are some of the key compounds found in Hydraulic (per 2 scoops):
L-Citrulline 5000mg – A solid dosage of this amino acid that helps to boost nitric oxide production in the body to help deliver more blood to the working muscles.
GlycerPump™ 2000mg – A stable version of Glycerol, this compound helps to draw more water and nutrients into the muscle cells delivering a skin-splitting pump.
CarnoSyn Beta Alanine™ 2400mg – Helps to buffer fatiguing metabolic by-products allowing you to train harder for longer.
Creatine MagnaPower™ 1500mg – A bonded form of Creatine and Magnesium Chelate. Creatine MagnaPower™ will help to increase muscle strength and power in the gym.
Nitrosigine® 1000mg – One of the best blood flow enhancers on the market Nitrosigine® has been shown to elevate blood flow for hours.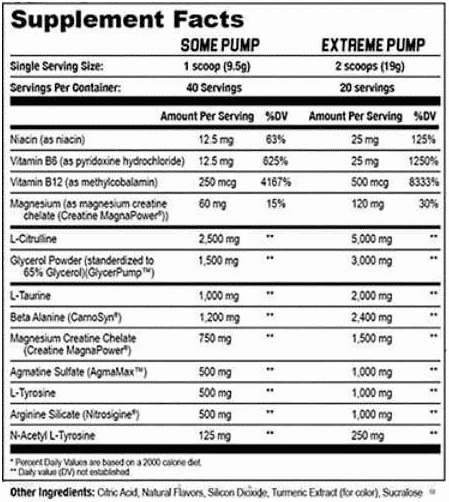 Directions: Take 1 – 2 scoops 20 minutes prior to training with water.
Flavor Profiles:
Unicorn Blood = Rainbow Sherbet
HWMF = Rocket Pop
Shark Bite = Orange Mango
Scorpion Venom = Mixed Berry
Additional information
| | |
| --- | --- |
| Flavour | Deadlifts & Gummy Bears, Icee Blue Raspberry, Icee Cherry, Scorpion Venom, Shark Bite, Whiskey & Cola |