AXE & SLEDGE THE GRIND (480g) BCAA's & EAA's
$62.95
Description
Axe & Sledge The Grind
Axe & Sledge The Grind is a complete BCAA & EAA formula designed by non other than IFBB Pro Seth Feroce.
BCAA's & EAA's are some of the most well-known and beneficial supplements to help amplify recovery and boost muscle protein synthesis. Muscle protein synthesis is the process of converting protein into muscle tissue.
Axe & Sledge have opted to use a combination of both BCAA's & EAA's rather than just the standard BCAA blends that companies generally formulate. This was done to create a complete recovery solution for the hardest workers in the room.
The great thing about this product is they use readily digestible amino acids, meaning they are up taken straight into the bloodstream and do not require time to digest as a standard protein powder does. What this essentially means is you are giving your body the nutrients it needs to recover as soon as you are doing the damage!
If you are looking for a quality product to support recovery and hydration, look no further than the popular Axe & Sledge The Grind.
Premium amino acid supplement
7.5g BCAA/EAA blend
added glutamine
added betaine for increased power output
added hydration blend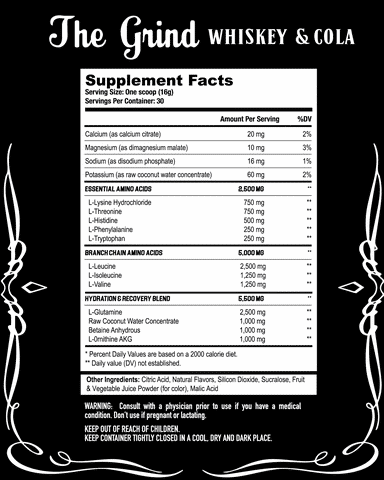 Directions:
Mix 1  scoop into 10-12 oz of cold water, your post-workout protein shake or any beverage of your choice. Ideal to use during and post workout. Caffeine free – use any time of day or night. For best results, we recommend 2 servings per day.
Additional information
| | |
| --- | --- |
| Flavour | Big Melons, Blue Raspberry Icee, Cherry Icee, Deadlifts & Gummy Bears, HWMF, Scorpion Venom, Shark Bite, Swamp Beast, Your Mum's Lemonade, Your Mum's Sweet Peach, Apple Berry |