BEAST SUPER TEST (180 Capsules)
$79.95
Out of stock
Description
Beast Super Test
Beast Super Test is one of the finest testosterone support supplements on the market.* Workout enthusiasts everywhere now demand it because Super Test® is designed to help them build muscle mass, improve strength, support an already healthy sex drive, help detoxify their system, and maintain their bodies for optimum fitness and health.*
Testosterone has always been the most coveted of the anabolic hormones and occurs naturally in the body. However, as people age, the body's testosterone levels drop significantly. Super Test® delivers maximum testosterone support.*
The Beast Super Test formula contains four different forms of Arginine to maximize nitric oxide to promote muscle growth and stamina.* It also has powerful inhibitors to support normal ratios of estrogen and DHT.*
Super Test® is also formulated to help clean and detoxify the system.* The liver and kidneys become overworked and strained due to the demanding diet and supplement requirements of athletes and weight trainers. Super Test® contains detoxifiers to keep these vital organs functioning at optimum levels.*
A PROFESSIONAL STRENGTH COMPLEX THAT SUPPORTS TESTOSTERONE AND NITRIC OXIDE LEVELS CONTRIBUTING TO MUSCLE, STRENGTH, MASS, AND DENSITY. FOR SERIOUS RESULTS
SUPPORTS TESTOSTERONE LEVEL ALREADY IN NORMAL RATIOS*

SUPPORTS NORMAL SEXUAL HEALTH*

SUPPORTS NORMAL ESTROGENS RATIOS*

SUPPORTS LIVER & KIDNEY FUNCTION*

CONTRIBUTES TO MASS & STRENGTH*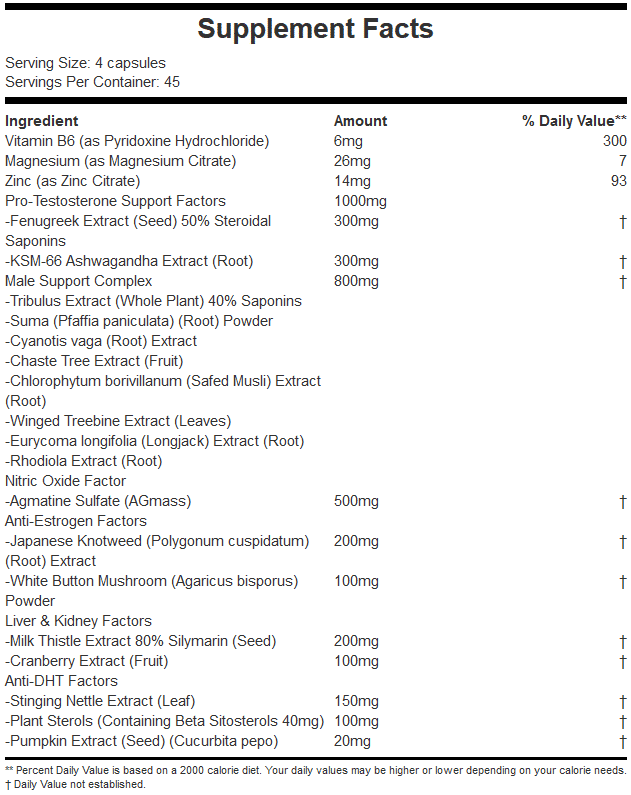 Ingredients:
Other Ingredients: Gelatin (from Halal Bovine), Microcrystalline Cellulose, Magnesium Sterate, Silicon Dioxide, FD&C Blue No. 1, and FD&C Red No. 40.
Directions:
As a dietary supplement, take 3-4 capsules before morning meal and 3-4 capsules before evening meal daily. Take this product for a maximum of 8 weeks, followed by a 4 week off-cycle. Do not exceed recommended serving size.
Contains: Milk, Soy.
This product was produced in a facility that may also process ingredients containing milk, eggs, soybeans, shellfish, fish, tree nuts, wheat, and peanuts.