BEAST SUPER TEST POWDER (360g)
$79.95
Description
Beast Super Test Powder
Most Powerful All-In-One Testosterone Product Available! – Beast Super Test Powder

MAXIMIZES TESTOSTERONE (the body's own testosterone production
ENHANCES LIBIDO
DELIVERS ANTI-ESTROGENS
DETOXIFIES LIVER & KIDNEYS
INCREASES MASS & STRENGTH
Beast Super Test is the finest testosterone booster on the market. Workout enthusiasts everywhere now demand it because Super Test® is designed to help them build muscle mass, improve strength, increase sex drive, help detoxify their system, and maintain their bodies for optimum fitness and health.
Testosterone has always been the most coveted of the anabolic hormones and occurs naturally in the body. However, as people age, the body's testosterone levels drop significantly. Beast Super Test delivers maximum testosterone support.
The Beast Super Test formula contains four different forms of Arginine to maximize nitric oxide to promote muscle growth and stamina. It also has powerful inhibitors to support the reduction of estrogen and DHT.
Beast Super Test is also formulated to help clean and detoxify the system. The liver and kidneys become overworked and strained due to the demanding diet and supplement requirements of athletes and weight trainers. Super Test® contains detoxifiers to keep these vital organs functioning at optimum levels.
If you are serious about working out and want to perform at your best, Super Test® will help you achieve your fitness goals.
Suggested Use Is Important. Read These Steps.
Powder: As a dietary supplement, mix 1 scoop with 10-12 oz of water before morning meal and 1 scoop before evening meal daily. Adjust water to taste. Take this product for a maximum of 8 weeks, followed by a 4 week off-cycle. Do not exceed recommended dosage.
Beast Super Test works with all of the other Beast supplements. This team of products is ready to help anybody who is serious about getting big, being strong, keeping fit and staying healthy.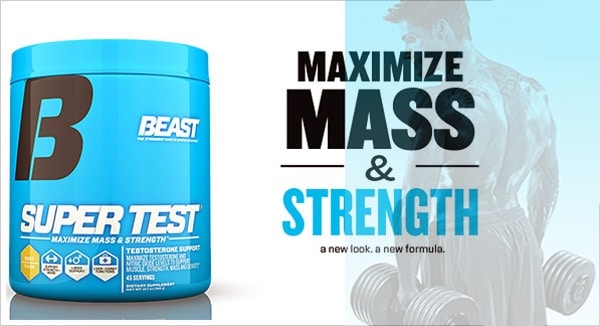 Supplement Facts
Serving Size: 1 scoop (8g)
Servings Per Container: 45.0
Per 8g Serve Per 100g
Kilojoules 41.8 kJ 523.0 kJ
Calories 10.0 cal 125.0 cal
Total Carbohydrates 2.0 g 25.0 g
Sugars 0.0 g 0.0 g
Fibre 0.0 g 0.0 g
Vitamin B6 5.0 mg 62.5 mg
Sodium 40.0 mg 500.0 mg
Magnesium 22.5 mg 281.3 mg
Zinc 13.5 mg 168.8 mg
Cyanotis Vaga Extract (root) (20-Hydroxyecdysterone 60%) 184mg –
Anabolic Testosterone Support Complex 1000mg –
[Puncture Vine (whole plant) 40% steroid saponins including: [25 -d-spirosta-3, 5-diene, 5 alpha-furost-20(22)-en-12-one-3 bet, 26-diol, 5 alpha-furostan-12-one-3 beta, 22, 26 triol, Protodioscin]. Plaffia paniculata (powder), Withania somnifera Extract 2.5% Withanolides (root), Chlorophytum Extract (root), Rhodiola Extract (Root), Fenugreek Extract (seed) (Testofen), Eurycomo longifolia Extract 100:1(root), Chaste Tree Extract (fruit), Winged Treebine Extract (leaf)]
Nitric Oxide Support Complex 500mg –
[L-Arginine, L-Citrulline Malate, Arginine Ethyl Ester, Di-Arginine Malate]
Estrogen Control Factors 200mg –
[Japanese Knotweed Extract (root), Diindolymethane, Calcium D-Glucarate]
DHT Control Factors 150mg –
[Nettle Root Powder, Pygeum Africanum Extract (bark), Pumpkin Seed Extract]
Liver & Kidney Detoxification Support 190mg –
[Milk Thistle Extract (seed), Cranberry Extract (fruit)]
Ingredients:
Maltodextrin, Citric Acid, Natural & Artificial flavors, salt, sucralose, acesulfame potassium, calcium silicate
Directions:
As a dietary supplement, take 1 scoop before morning meal and 1 scoop before evening meal daily. Adjust water to taste. Take this product for a maximum of 8 weeks, followed by a 4 week off-cycle. Do not exceed recommended dosage.
Warnings:
Check with a qualified healthcare professional before using this product, or any dietary supplement, if you are under the age of 18 or of you have any known or suspected medical condition(s) and/or are taking any prescription or OTC medication(s). Discontinue use and consult your health care professional if you experience any adverse reaction to this product. Always try to consume at least 64 oz of water daily while using this product. Keep out of reach of children.
Allergen Warning:
This product was produced in a facility that may also process ingredients containing Milk, Eggs, Soybeans, Shellfish, Fish, Tree Nuts and Peanuts.