BETANCOURT LIQUID L-CARNITINE PLUS (450mL) 3000mg
$48.95
Description
Betancourt Liquid L-Carnitine Plus
Betancourt Liquid L-Carnitine Plus is a stimulant free triple action L-Carnitine. L-Carnitine plays a vital role in energy production by naturally transporting fatty acids into your mitochondria. By facilitating this process, L-Carnitine helps the body's ability to burn fat for fuel and exercise performance.
High-Quality Ingredients
Extra Strength Triple Action L-Carnitine Complex
Strategically formulated with L-Carnitine L-Tartrate, L-Carnitine Fumarate and Acetyl L-Carnitine to promote absorption, weight management, energy, and cognitive function. Carnitine Plus is free of all stimulants.
GAMMA-BUTYROBETAINE HC
GBB is often referred to as being the "superior" form of Carnitine. It serves as a potent precursor, as our body naturally converts it into L-Carnitine. Carnitine Plus unitilzes GBB to produce accelerated amounts of Carnitine.
**These statements have not been evaluated by the Therapeutic Goods Administration. This product is not intended to diagnose, treat, cure or prevent any disease. Please consult a qualified professional before undertaking any health, fitness or dietary program.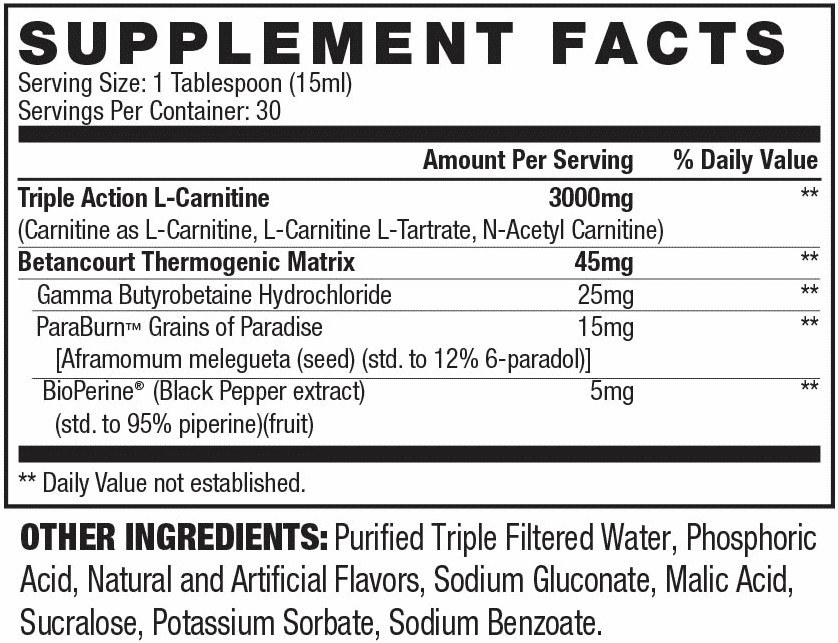 Directions:
As a dietary supplement, mix 1 serving (1 tablespoon or approx. 1/2 cap) with 5-8 oz. of cold water. Shake before use. Refrigerate after opening. To be used as part of a resistance exercise program.
Additional information
| | |
| --- | --- |
| Flavour | Candy Apple, Strawberry Lemonade |