BLENDER BOTTLE PRO STAK! (650ml)
$21.95
Description
Blender Bottle Pro Stak
With Friday's long-awaited release of the Blender Bottle Pro Stak, and the positive feedback from our last in-depth review of the GoStak (see: 7 GoStak Features You May Have Missed), it seemed only fitting to give the ProStak the same treatment.
At BlenderBottle, we give careful thought and design to every inch of our products, striving to create solutions that are not simply "good enough," but raise the bar for quality, style, and innovation.
So without further ado, I give you six features – big and small – that make the ProStak one of the best shaker cups we've ever made.
1. Fully Independent Jar System
The Blender Bottle Pro Stak comes with two independent jars designed to carry pre- and post-workout supplements, meal replacement powders, healthy snacks, and more, with or without the bottle. Using the unique Twist n' Lock™ technology first introduced in the GoStak system, the ProStak jars have their own lids, and quickly attach to the bottom of the bottle with a quarter turn.
Independent jars offer a number of benefits – my favorite being that they allow for usage as a "cartridge system." Using a couple of Expansion Paks, I fill up jars for every day of the week. When I wake each morning, I grab my ProStak, a pre-filled jar, lock it onto the bottom of the bottle, and I'm ready to go. While it's not necessarily difficult to fill up the jars every morning, this is just one more way to streamline my routine and simplify my day.
Aside from allowing you to mix and match whatever sizes you need, and offering extra spill protection for the contents, (crucial when you're putting these in your gym bag or backpack!), the Twist n' Lock design hides unsightly threads, ensuring your ProStak will look beautiful and complete, even if it stands alone.
I mentioned earlier that we pride ourselves on the details. This is certainly one of them.
2. BlenderBall® Inside
The ProStak delivers the same unparalleled, industry leading mixing that only comes from the patented BlenderBall® wire whisk. Found exclusively in BlenderBottle® brand shaker cups, the BlenderBall mixes the toughest protein and meal replacement shakes with ease. Quickly mix in peanut butter, oat flour, yogurt, softened ice cream, even bananas (with a bit of pre-mashing, of course).
Since we're bragging, I may as well mention that it's powerful enough to whip cream. No joke.
3. Removable Twist n' Lock™ Pill Organizer
This is just cool. Pack vitamins, pre-workout pills, and post-workout powder, all in the same jar! Rather than having to use up an entire jar with a drop-in pill divider, the Twist n' Lock pill tray locks into the lid of any jar, saving space and keeping things tidy.
4. New Patent-Pending Loop and Ergonomic Design
It's amazing how something so simple can be so handy. If you've used the Blender Bottle Pro Stak, you understand just how convenient a loop like this is. Easily carry the ProStak with only a finger (leaving your hands open to carry other items), or keep your keys handy with a carabiner. Once you have a shaker cup with a loop, it'll be tough to go back.
As far as ergonomics go, the Blender Bottle Pro Stak features a few subtle yet comfortable updates. The flip cap has a more thumb-friendly design, and the loop sports a nice rubber over mold. The cup has been updated to provide an easier grip, and the ounce and milliliter markings are more pronounced and easier to read. Subtle? Yes. Insignificant? Not at all.
5. Space-Saving Features
Bigger is not always better. While the ProStak has been designed to provide significant capacity and convenience, careful thought was given to be sure it wouldn't overtake your cupboard. The 100cc jar actually fits inside the bottle, bringing the ProStak down to the same height as a 28oz BlenderBottle Classic. If you're even more hard-pressed for vertical space, simply remove both jars altogether, and you've got a "mini" BlenderBottle that should fit just about anywhere.
Tip: Don't need the BlenderBall right now? Store it in one of the ProStak jars to keep it clean and handy for when you need it next.
6. BPA and Phthalate Free
I'll keep this simple. Like all BlenderBottle products, the ProStak is BPA and Phthalate free and won't leech harmful chemicals into your drink. We don't cut corners in our designs, and we certainly don't cut corners with our materials. Period.
7. BONUS: Available in Eight Vibrant Colors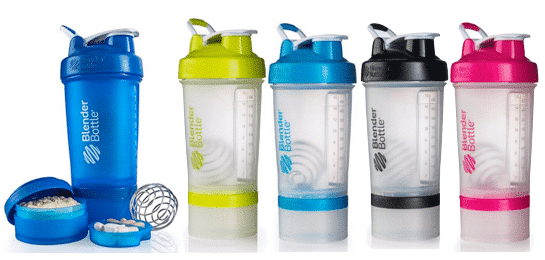 Additional information
| | |
| --- | --- |
| Color | Full Colour Coral, Full Colour Navy, Full Colour Orange, Full Colour Teal, Full Colour White |