BODY ATTACK EXTREME WHEY DELUXE (2.3kg)
$103.95
Description
Body Attack Extreme Whey Deluxe
Body Attack Extreme Whey Deluxe contains an exclusive mix of the highest-quality whey proteins: ٠micro-filtered whey protein isolate ion-exchanged whey protein isolate ٠ultra-filtered whey protein concentrate ٠hydrolysed whey peptide . The largest portion is made up of micro-filtered whey protein isolate, the highest quality whey protein.
One portion of Extreme Whey Deluxe provides at least 35g of protein (in milk) whilst at the same time providing a minimal amount of carbohydrate and fat. Extreme Whey Deluxe also contains added L-Glutamine, delivering more than 7400 mg of the most important amino acid (in milk) in every portion. L-Glutamine assists in faster muscle tissue regeneration after intense training sessions or physical strain on the body. Furthermore, the product contains more than 7000 mg BCAA per shake.
The BCAA combination provides a complex chain of the essential amino acids L-leucine, L-Valine and L-isoleucine that are indispensable for athletes wanting to increase lean muscle mass and strength. The hydrolysed whey peptide component of Extreme Whey Deluxe ensures faster absorption into the bloodstream. In addition, Extreme Whey Deluxe contains the enzyme lactase that hydrolyses the disaccharide lactose which in its monomer constitutes catalysed galactose and glucose. Therefore, assisting the digestion of Lactose making it suitable for Lactose intolerant individuals. Extreme Whey Deluxe dissolves easily as it's a high quality instantized whey protein that is one of the top products on the market.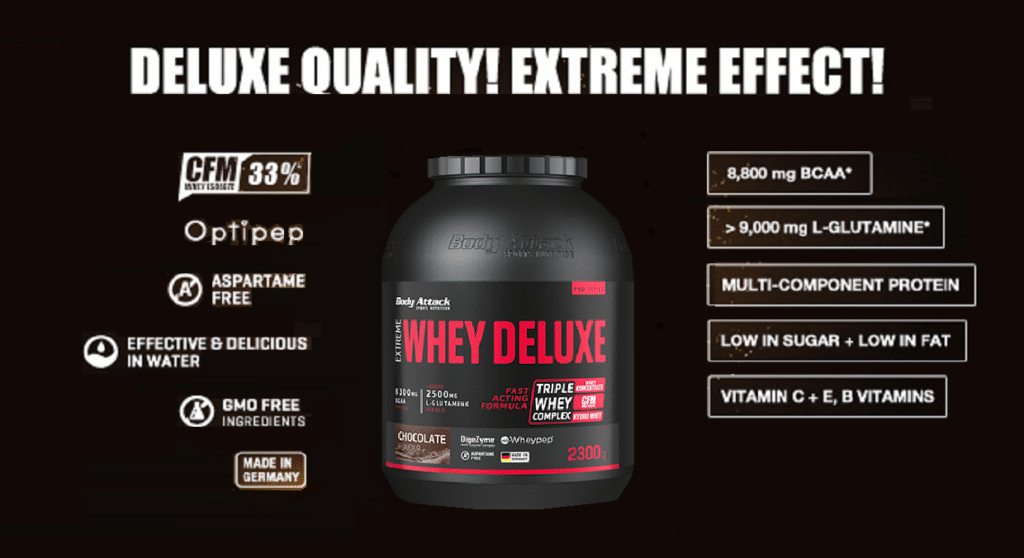 Supplement Facts
Serving Size: 30g
Servings Per Container: 76 Servings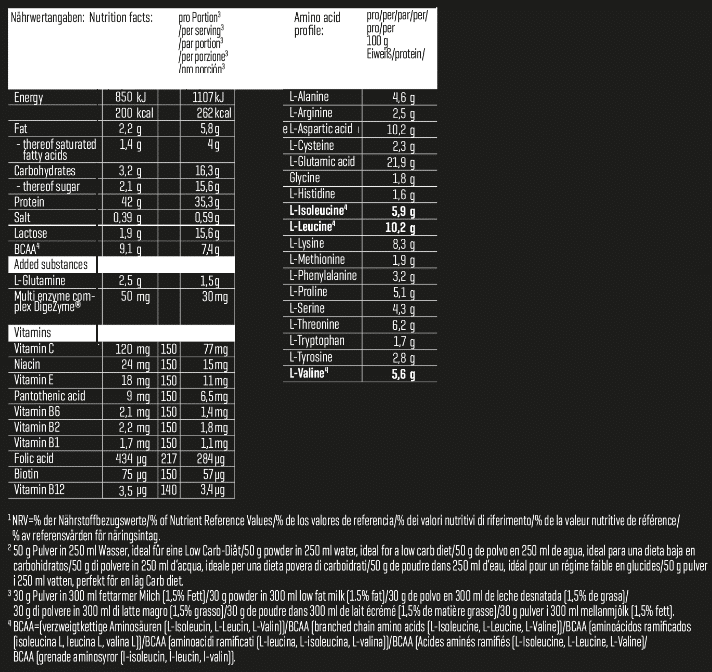 Ingredients (Vanilla): whey protein blend* (88,9%) (microfiltered whey protein isolates, ion-exchange whey protein isolate, ultrafiltered whey protein concentrate, ion-exchange whey protein concentrate, hydrolyzed whey peptides), l-glutamine (5,0%), flavour, thickening agent xanthan gum, sweetener acesulfame k, emulsifier soy lecithin, l- ascorbic acid, nicotine amide, alphatocopherol acetate, calcium-d-pantothenate, lactase (<1%), pyridoxine-hydrochloride, riboflavine, thiamine mononitrate, pteroylmonoglutamine acid, biotin, cyanocobalamin *contains beta-lactoglobulin, glycomakropeptides, alpha-lactalbumin, immunglobulin G and lactoferrin