BODY ATTACK PROTEIN COOKIE (75g)
$5.20
Description
Body Attack Protein Cookie
The Body Attack Protein Cookie has a soft texture, tastes fantastic and will put an end to your sugar cravings in an instant. A single cookie (75g) supplies your body with an incredible 40 g of Protein, which is nearly twice as much protein as you get from a protein shake. In addition, the cookie comes with over 5 g of BCAA, i.e. the amino acids highly popular among strength and endurance athletes.
A further special feature are the cookie´s protein sources such as milk proteins and enzymatically hydrolysed whey protein Isolate. Among proteins, they belong to those with the highest biological value. This combination of high-quality proteins enables the supply of valuable BCAA in your daily diet
1. The perfect protein alternative to protein shakes
The Body Attack Cookie is therefore ideal for muscle maintenance and development within the scope of a protein-rich diet. But also vegetarians or those who eat no or hardly any meat can fall back on the protein-rich Body Attack Cookie are a nutritional substitute.
2. Product Highlights
40 g protein per cookie
Supplies the body with beneficial milk Protein
Contains whey protein isolate (Optipep)
Only approx. 1g sugar
Over 5g BCAA
Contains high-quality oatmeal
Great taste
This makes the Body Attack Protein Cookie an excellent alternative not only to meat but also to protein shakes, i.e. you can now also treat yourself to a yummy Body Attack Protein Cookie after workout. And all those, who normally enjoy a protein bar after workout or as a snack in between, will welcome the Body Attack Protein Cookie as a new taste sensation – because the Body Attack Protein Cookie impresses with its soft texture and delicious taste.
The Body Attack Protein Cookie is also ideal and a source of pure enjoyment for those watching their weight and who want to cut down on sugar when preparing and shopping for food. Depending on the variety, the Body Attack Protein Cookie contains only between 1g to 1.8 g of sugar. Also, a protein cookie has only 0.98g of milk sugar (lactose).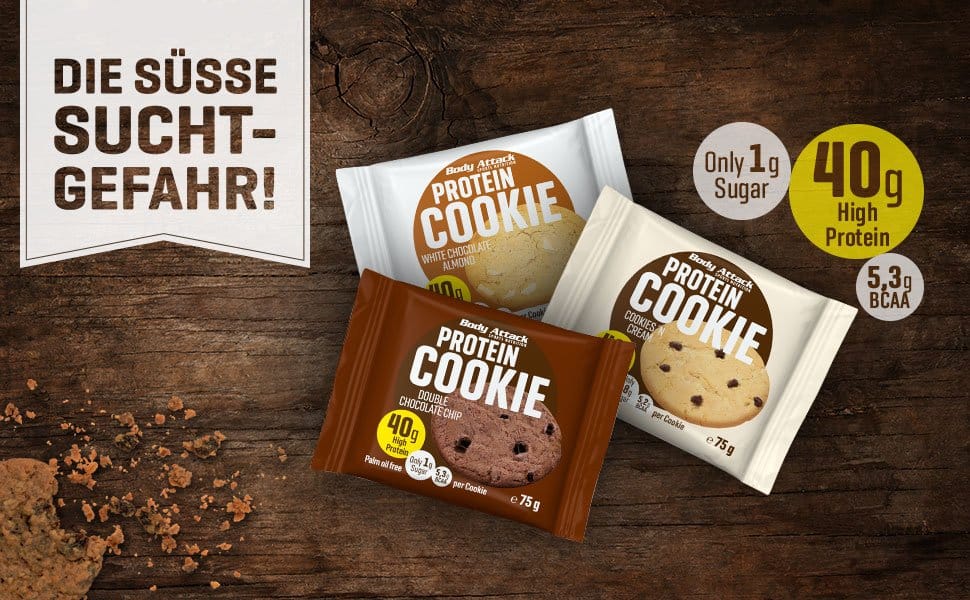 Related
Nutrition Facts
Per 75 g Serving
Energy 1266 kJ/ 301 kcal
Fat 9,0 g
-thereof fatty acids 6,9 g
Ingredients: Protein cookie with sweeteners. Ingredients: Milk protein, Hydrolysed collagen (Beef), Humectant (Glycerine), Vegetable oil (Coconut), Chocolate bites (7.8%) (Sweetener (Maltitol), Cocoa mass, Emulsifier (Soy lecithin), Highly de-oiled cocoa powder, Flavouring), Highly de-oiled cocoa powder (3.3%), Sweetener (Xylitol, Sucralose), Enzymatically hydrolysed whey protein isolate (Optipep®) (2%), Thickening agent (Xanthan, Locust bean gum), Flavouring, Raising Agent (Potassium tartrate, Sodium hydrogen carbonate), Soy protein, Emulsifier (Soy lecithin), Oat flour, Table Salt.
If kept unopened in a cool, dry place, best before end of/Lot No.: see imprint. Once opened, use up quickly. Keep away from direct heat and l
Related
Additional information
| | |
| --- | --- |
| Flavor | Cookies & Cream, Double Chocolate Chip, White Chocolate Almond |