CELLUCOR C4 RTD (473ml)
$4.95
Description
Cellucor C4 RTD
Cellucor is famous for the best selling pre-workout on the market in C4. Cellucor C4 RTD is an energy drink formula to energize and help you maximize the day. C4 Energy Drink will deliver 200mg of caffeine plus other muscle-boosting ingredients to help you stay fit
Energy To Perform…Anywhere.
C4 On The Go is explosive energy that goes wherever your workout takes you. The newest addition to the C4® family is now available in a delicious, carbonated format, to activate your taste buds and a one of kind sensory experience.
Within minutes of drinking Cellucor C4 RTD, you will feel a tingling sensation awaken your mind and body as liquid motivation courses through your veins. You will feel a compulsion to grab hold and tackle any challenge ahead of you.
Your mind, keenly aware of the energy you now possess, leaves you with only one thought… IT'S GO TIME!
The Performance Differentiator
Cellucor C4 RTD is more than just an explosive energy drink. It is performance energy that combines clinically studied ingredients, engineered to give you the edge you need to dominate your workouts and crush any goal, anywhere, anytime.
Great Taste, Zero Sugar, Zero Calories and Zero Carbs
With mouth-watering sparkling flavors like – Frozen Bombsicle, Twisted Limeade, C4 On The Go offers something for every palette. Refresh yourself and get ready for a taste experience like you've never had before.
200mg Caffeine Anhydrous – Supports energy, mental alertness, and the performance of cognitive tasks
CarnoSyn Beta-Alanine – Designed to delay the onset of fatigue, resulting in improved power and performance.
Citrulline Malate – Supports an increase in nitric oxide levels
BetaPower Betaine – Maintains your cells electrolyte concentration and supports hydration
N-Acetyl-L-Tyrosine – Supports mental and cognitive health during stressful activities
B6 and B12 Vitamins – Healthy levels of B-Vitamins promote peak cognitive performance and energy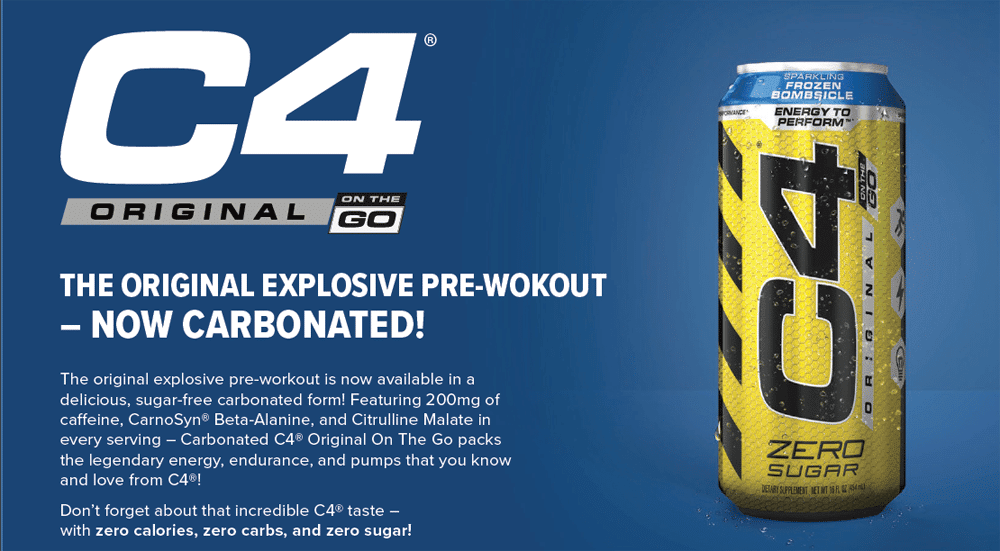 Supplement Facts
Serving Size: 1 Can (16 fl. oz.)
Servings Per Container: 1
Calories 0
Total Carbohydrate 0g
Sugars 0g
Niacin 30mg
Vitamin B6 500mcg
Folic Acid 250mcg
Vitamin B12 35mcg
Potassium 90mg
Explosive performance energy blend 6.73g
Citrulline malate, carnosyn, beta-alanine, betapower, betaine anhydrous, n-actyl-l-tyrosine, caffine anhydrous(200mg)
Other Ingredients: Water, citric acid, potassium sorbate, sucralose, natural & artificial flavors, acesulfame potassium, fd&c blue #1.
Warning: Not for use by individuals under the age of 18 years. Do not use if you are pregnant or nursing. Individuals who consume caffeine with this product may experience serious adverse health effects. Individuals who are sensitive to the effects of caffeine should consult a licensed healthcare professional before consuming this product.
Additional information
| | |
| --- | --- |
| Flavor | Tropical Blast, Twisted Limeade |