CENTURION LABZ BLOOD RUSH (392g) NON-STIM
$58.95
Description
Centurion Labz Blood Rush
Centurion Labz Blood Rush formula is a combination of our first two versions, all-in-one! This formula is completely stacked – the most powerful blood flow ingredients at the best possible doses. Just try and find a more loaded pump agent on the market!
Blood Rush was developed not only to enhance blood flow to the muscle during physical activity without adding stimulants, but also, it can be stacked with our other pre-training supplements, God of War, God of Rage, or God of Fire, for the combination of maximum pump agents and stimulants for the best possible workout. Blood Rush will deliver absolute maximum vasodilation, shuttling oxygen and nutrients to the muscles for optimal performance.
Science Behind The Ingredients
Norvaline: This is an old-school ingredient used to maximize blood flow. The amount of norvaline in this product is much more than you would find in a normal product, which means the blood will be pumping the entire time you're training.
Hydromax:
Hydromax is a patented yield of glycerol, forcing hydration to the muscle cells. Better hydration equals more nutrients. More nutrients will force growth.
L-Arginine:
Another ingredient that contributes to maximize blood flow during training sessions.
Citrulline Malate:
This ingredient converts to L-Arginine after passing through the body to deliver a strong pump.
Beet Root Extract:
Beet root is used to aid physical performance and provide nitric oxide to the muscles.
Features
Beetroot Extract
Norvaline
Glycerol Monostearate
L-Arginine
Citrulline Malate
Caffeine Free
**These statements have not been evaluated by the Therapeutic Goods Administration. This product is not intended to diagnose, treat, cure or prevent any disease. Please consult a qualified professional before undertaking any health, fitness or dietary program.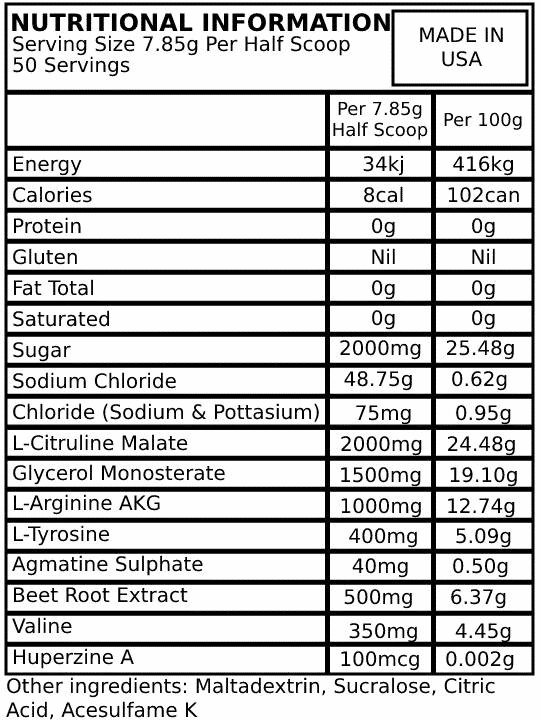 Directions: Take 1 serve at the beginning of training. You can also mix blood rush with your favourite stimulant pre-workout.
Additional information
| | |
| --- | --- |
| Flavour | Lemon Ice, Peach Rings, Snow Cone |