EFX KRE-ALKALYN EFX POWDER (100g)
$29.95
Description
EFX Kre-Alkalyn EFX Powder
EFX Kre-Alkalyn EFX Powder is formulated to win, Muscle Size, Strength, Recover, and Endurance! No Stimulant and No Banned Substances! No Loading and No Cycling Needed! Add a Scoop of Unflavored Powder to Any Stack! No Chemical Aftertaste and No Chemical Additives!
Kre-Alkalyn EFX…it's Buffered. It's Stable.
Kre-Alkalyn® EFX represents a major breakthrough in performance supplementation thanks to its multi-patented, pH-Correct creatine® stabilization technology. Our Scientist Dr. Jeff Golini discovered that "buffering" to pH-12 produced a stable creatine monohydrate molecule.*
Creatine stability is negatively influenced by acids and liquids at pH 6.9 or less (#6,399,661). Krea-Alkalyn is the only creatine with patent-protection from pH 7 to pH 14.
Formulated to Win!
PH-Correct Creatine Monohydrate
Muscle
Performance
Strength
Dietary Supplement
Clinically Proven
The Original Purple Cap
Informed-Sport Trusted by Sport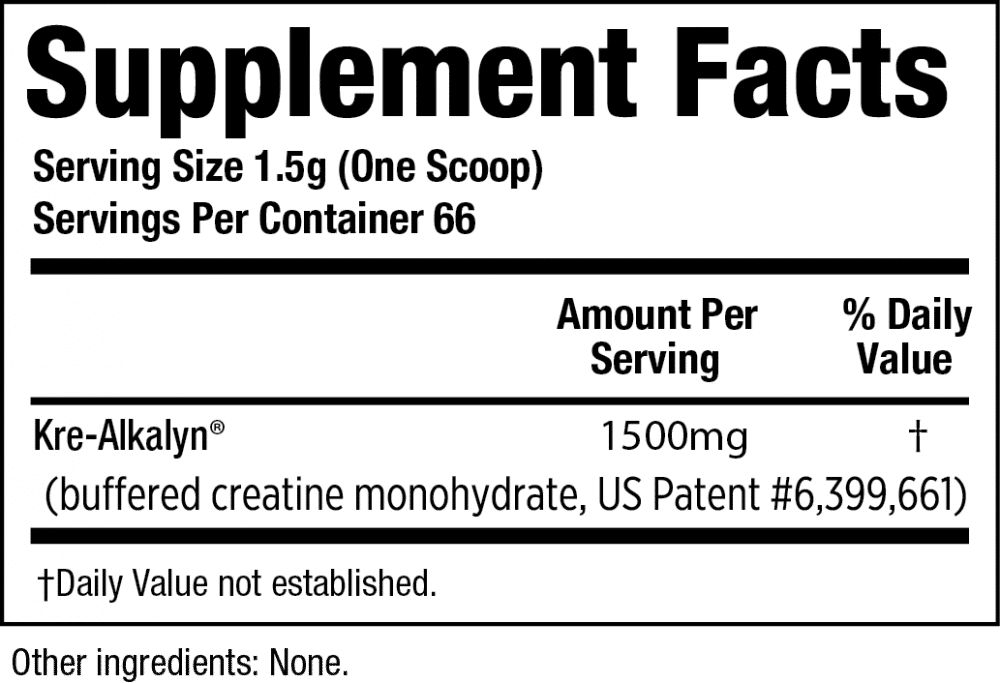 Suggested Use
As a dietary supplement, take 2 capsules 30 minutes prior to workout and 2 capsules after workout.
Other Ingredients
Capsule (gelatin, fd&c blue #1, fd&c red #40), maltodextrin, and magnesium stearate.
Storage: Keep lid tightly closed in a cool, dry place away from children.