EFX SPORTS TRAINING GROUND PROTEIN 6 (1089g)
$69.95
Description
EFX Sports Training Ground Protein 6
EFX Sports Training Ground Protein 6 is an awesome blend of slow, medium & fast digesting proteins that deliver a steady, consistent stream of amino acids to your growing,
Drink Protein 6 before bed or any time you might have to go without a solid protein feed. You might even call it "growth insurance". It's 6-Phase amino release also helps you feel full longer than just about other protein could ever dream of.
So how does it taste? Freaking amazing! And… it blends super easy without that nasty chalky taste we all love to hate.
6 OF THE BEST PROTEIN SOURCES ON EARTH — ALL IN ONE CONTAINER
Each protein source in Training Ground Protein 6 was specifically chosen to make this the best tasting, easiest mixing sustained release formula any athlete could hope for.
That's right! You get ProtaLyn enhanced:
Whey protein concentrate
Whey protein isolate
Calcium caseinate
Milk protein isolate
Egg white
Montana pea protein
Bottom Line: Training Ground Protein 6 is the ultimate protein blend to feed new muscle growth and aid with recovery.
TRAINING GROUND PROTEIN 6 BLEND IS PROTALYN ENHANCED
For over a decade, our scientist, Dr. Jeff Golini, has been aware of how to theoretically boost metabolic response to protein by altering its peptides structures. But, it was not until recently the breakthrough happened. He called his discovery "Hybrid Enzymatic Peptide Technology". Thanks to Dr. Jeff Golini's Patent-Pending ProtaLyn enhancement process, ultra-premium, easily digested "Enzymatic Alkalized Proteins" are now a reality.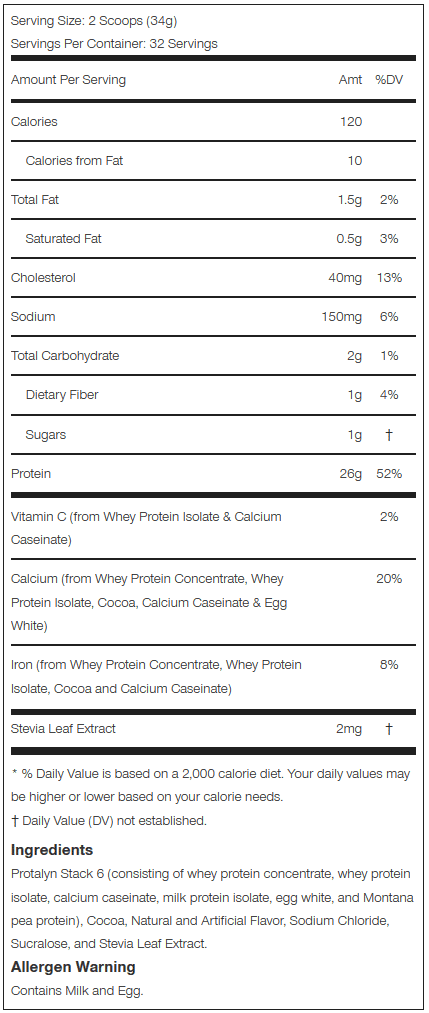 Suggested Use
As a dietary supplement, mix two scoops (34 grams) into 12-16 oz of water or your favorite beverage to taste in a shaker cup. No blender needed.
Warnings
Do not exceed the suggested daily dose. This product contains caffeine and methylxanthines in certain people, consumption of caffeine causes serious health effects, such as anxiety, palpitations, irritability, difficulty sleeping and stomach complaints. Consult your physician prior to using this product if you are pregnant, nursing or taking medication, under the age of 18, or have a medical condition. Discontinue its use two weeks prior to surgery. Limit or discontinue any other products containing caffeine during use. Do not consume Training Ground Pre within 4 hours of bedtime as the stimulant matrix may cause sleeplessness. Reduce or discontinue use if sleeplessness, tremors, dizziness, nervousness, headaches or heart palpitations occur after use. This product is only intended to be consumed by healthy adults 18 years and older.
Storage: Keep out of reach of children. Protect from heat, light and moisture. Store at 59-86ºF (15-30ºC).