ELITE LABS USA EXTREME MASSIVE MASS GAINER (2.27kg)
$76.95
Description
Elite Labs USA Extreme Massive Mass Gainer
Elite Labs USA Extreme Massive Mass Gainer is the ultimate hardcore for frustrated hard gainers. It doesn't matter if you're a skinny guy cursed with skinny genes, or your metabolism burns so fast it robs you of all your gains. Your days of busting @ss and getting no mass are done!
Introducing Extreme Massive Mass Gainer™. It's custom built for frustrated hard gainers and comes packed with 1,270+ mass-making calories, 60 grams of high-potency protein, over 12.7 grams of BCAAs, 10+ grams of glutamine precursors, and 249+ grams of the perfect carbohydrate for guys like you. If you've put in the time and hard work but still struggle to build the extreme mass you want, this one's for you!
As a hard gainer, you're going to need A LOT of carbs. Carbs to fuel your workouts. Carbs to fuel recovery. And carbs to help stop your fast metabolism from burning muscle for fuel.
MASSIVE PROFILE FOR MASSIVE MASS
That's why Mass Muscle Gainer™ contains the BEST, most clinically researched mass building ingredients in every serving. Check it out.
IT'S YOUR TIME TO GET MASSIVE
In fact, if you're training like a beast, fueling your body with quality whole foods, and supplementing with Mass Muscle Gainer™ – it's nearly impossible to keep your "skinny card.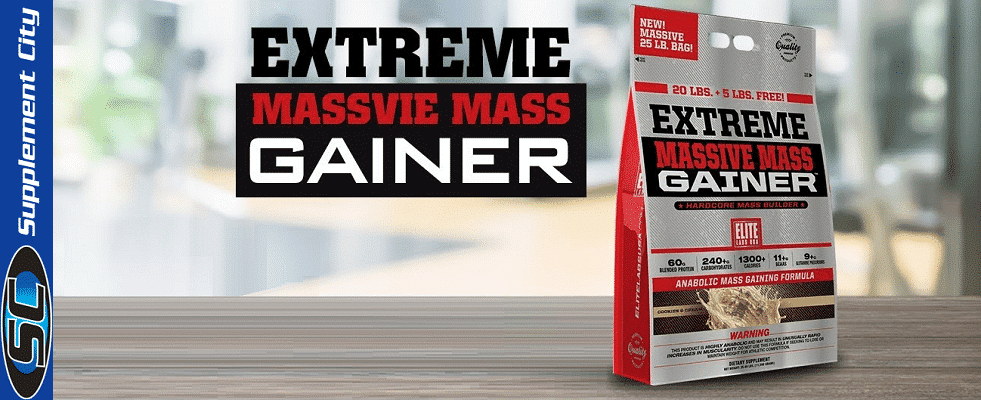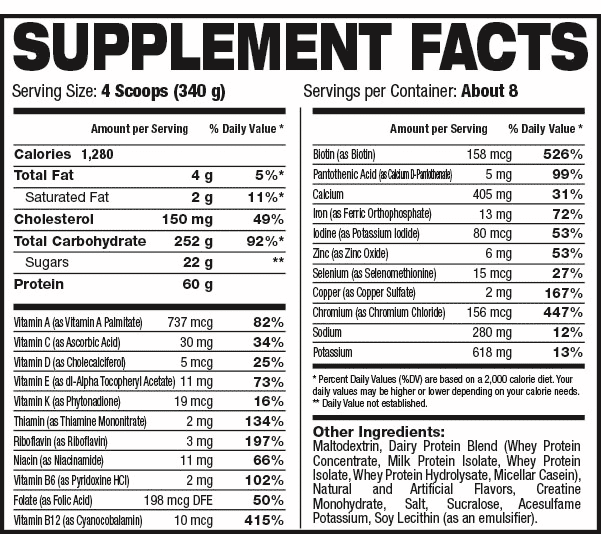 Directions:
As a dietary supplement, mix 4 scoops (1 serving) of Mass Muscle Gainer with 27oz of water or milk depending on your desired consistency. For best results, consume one full serving of Mass Muscle Gainer immediately following an intense workout.
On non-workout days, we recommend consuming 2 scoops (half a serving) in the morning, and another 2 scoops in the evening, preferably between meals.
Mix each half serving with 13 oz of water or milk. You may use more or less liquid to achieve desired consistency. Additional servings may be used throughout the day to meet your daily protein and calorie requirements.
Additional information
| | |
| --- | --- |
| Flavour | Chocolate., Cookies & Cream, Vanilla |