ELITE LABS USA MASS MUSCLE GAINER (9kg)
$199.95
Description
Elite Labs USA Mass Muscle Gainer
Elite Labs USA Mass Muscle Gainer is the biggest mass gainer in the world! When's the last time you thought to yourself, "I'd like to bust my @SS in the gym, struggle to eat enough food, and NOT gain a single pound of muscle?"
That would be never, right? Of course! And that's exactly why if you're a hardgainer struggling to eat enough calories and build the insane size you want, you need to get on Mass Muscle Gainer™ today.
Pound-for-pound…and there are 20 BIG ONES inside…Mass Muscle Gainer™ is the best VALUE, highest QUALITY, and BIGGEST Weight Gainer in the World. Every serving is packed with 1,000 + mass building calories, 60 grams of premium time-released protein, over 44 grams of amino acids, over 5 grams of Creatine Monohydrate and BCAAs, over 27 grams of Glycine, Platinum CarboClean™ carbohydrates, and so much more!
Build Muscle around the clock
Imagine knowing that every second, every minute, and every hour, your body is growing bigger and Bigger and BIGGER.
To get BIG, your muscles need protein around the clock. That's why Mass Muscle Gainer™ supplies 60 massive grams of Platinum Pro Time Released Protein™. Ultra-pure, premium grade proteins such as Whey Protein Isolate, Whey Protein Concentrate, Micellar Casein, and Milk Protein Isolate. It's the perfect combination of fast, intermediate, and slow releasing proteins to encourage rapid muscle growth for up to 8 rock-solid hours.
Get big – every day not fat
Anyone who's bulking up would give just about anything to stay lean, wouldn't you agree?
Your choice in carbohydrates and fats will either make or break your physique. That's why Mass Muscle Gainer™ utilizes Platinum CarboClean™…the cleanest, highest quality, time-released carbohydrates to increase & sustain energy, rapidly refuel muscles, promote faster growth, and discourage fat gain by strategically augmenting the anabolic insulin response.
PLUS – every serving is loaded with Medium Chain Triglycerides (MCTs), Essential Fatty Acids (EFAs), and Conjugated Linoleic Acid (CLA) – the BEST and healthiest fats for promoting the shreds and fighting the bulge.
Over 1,000 Mass Building Calories
60 grams of Platinum Pro Time Released Protein
174-215 grams of Platinum CarboCleann
Over 5 grams of Pharma Grade BCAA's
Over 5 grams of Creatine Monohydrate
Over 44 grams of Amino Acids
Over 27 grams of pure L-Glycine
Essential Fatty Acids, CLA & MCTs
18 key Vitamins 8 Minerals
0 Trans Fat
Added Glutamine to Improve Recovery
100mg of EliteZyme Lactase enzyme
And 35 Massive Servings in Every Bag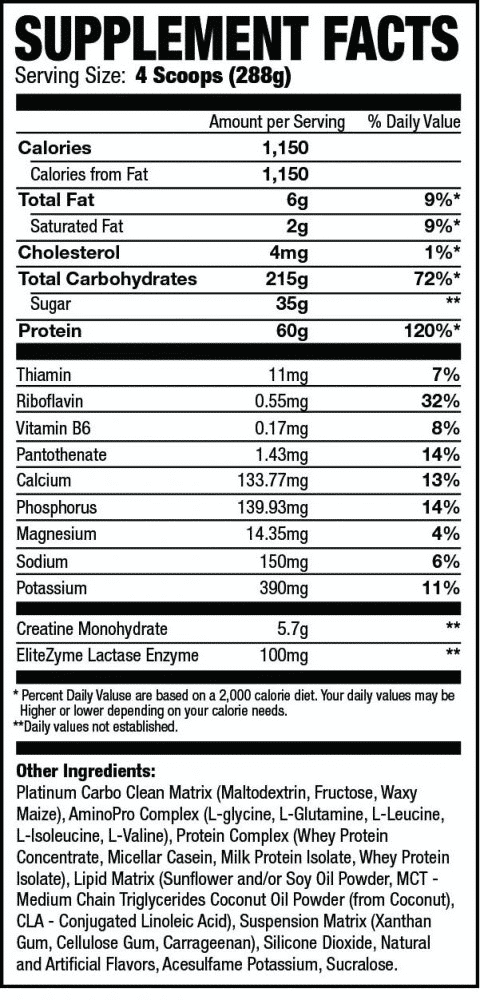 Directions:
As a dietary supplement, mix 4 scoops (1 serving) of Mass Muscle Gainer with 27oz of water or milk depending on your desired consistency. For best results, consume one full serving of Mass Muscle Gainer immediately following an intense workout.
On non-workout days, we recommend consuming 2 scoops (half a serving) in the morning, and another 2 scoops in the evening, preferably between meals.
Mix each half serving with 13 oz of water or milk. You may use more or less liquid to achieve desired consistency. Additional servings may be used throughout the day to meet your daily protein and calorie requirements.
Additional information
| | |
| --- | --- |
| Flavour | Double Rich Chocolate |