EVLUTION NUTRITION EVLTEST (120 Tablets)
$69.95
Description
Evlution Nutrition EVLTest
EVL Test provides a potent testosterone complex that will assist you in your muscle building efforts. Evlution Nutrition EVLTest will provide short-term benefits of improving strength and endurance and will enhance your physique over the long term. The ZMA in EVL Test will also help to improve sleep quality and increase your growth hormone levels naturally. EVL Test is recommended for an 8 week cycle, for bulking purposes or when you need to raise your natural testosterone levels naturally post cycle, followed by a 4 week break.
Evlution Nutrition EVLTest is a strong and powerful all-in-one testosterone booster that helps to improve your body composition, endurance, muscle strength, sleep quality and performance. Supplementing with this potent testosterone complex will have you training more often and with a greater intensity and focus and make drastic improvements to your body in a matter of weeks.
The immediate effects of supplementing with EVL Test can be seen in the gym as you'll experience improvements in your strength, endurance and performance due to your raised testosterone levels. Due to the zinc, magnesium and vitamin B6 present in EVL Test, significant improvements in sleep quality will result in faster recovery from training. After a couple of weeks, you'll also see a big difference in your physique due to the impact of your testosterone levels – your lean muscle mass will increase and your body-fat levels will decrease.
D-Aspartic Acid (3,120mg) Supports natural testosterone levels and leutenizing hormone production.*
Tribulus Extract (750mg) Herbal extract sourced from the vine tribulus terrestius.
Fenugreek (500mg) Ultra High Strength source containing 50% level of furostanic saponins, adding to the testosterone support complex and antioxidant levels in EVLTEST.*
DIM (250mg) Diindolymethane is sourced from cruciferous vegetables like cauliflower and kale, and is suggested in in-vitro studies to support metabolism of estrogen.*
Vitamin D Is not actually a vitamin but a hormone important to many bodily functions and supports bone health. Also plays a role in supporting natural testosterone levels and healthy sleep levels.*
Zinc Is a powerful antioxidant and also plays a key role across many physiological functions. Supports zinc in the body which is important for the maintenance of hormone and normal testosterone levels.*
Magnesium Aspartate A highly absorbable form of Magnesium, which supports activating the enzymes or a number of physiological functions, including neuromuscular contractions, and cellular energy as well as relaxation of muscles.*
Vitamin B6 Supports production of melatonin which aids healthy sleep with B6 which supports production of serotonin and norepinephrine which impact mood.*
THE COMPLETE STRENGTH AND RECOVERY FOUNDATION
• SUPPORTS NATURAL TESTOSTERONE LEVELS*
• MUSCULAR STRENGTH*
• STAMINA*
• PERFORMANCE*
• SUPPORTS OPTIMAL SLEEP*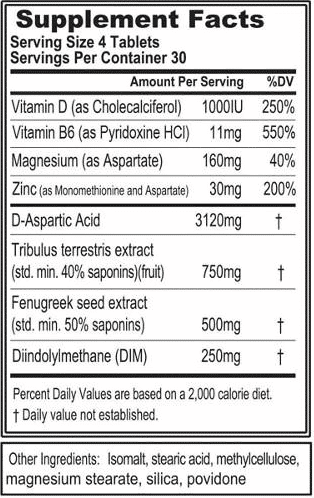 Directions: Take 4 tablets on an empty stomach 30-60 minutes before bedtime.
Warnings: Not for use by those with pre-existing medical conditions. Not for use by women. Do not use if you are pregnant, nursing or those that are contemplating pregnancy. Consult your physician before using this product if you are taking any medications or are under a physicians care for a medical condition. Discontinue use 2 weeks prior to surgery. Keep out of reach of all children. Do not exceed recommended serving size or suggested use for any reason. Use for a maximum of 12 weeks, then take a 4 week break before beginning use again.