Sale!
FACTION LABS ATTENTION (280g)
Description
Faction Labs Attention
Ignite cognitive function, boost creativity, enhance mood and titillate the senses with Faction Labs Attention.
Attention is the strongest, most thorough, and effective nootropic supplement on the market. With over 3.5g of active ingredients, Attention will clear the mind and enable you to realise your complete potential.
The applications of Attention are limitless. It doesn't matter if you're a Student, Athlete, Gamer, Professional, Homemaker or Welfare Recipient, Attention will unlock your mind and deliver immeasurable clarity.
Harness the power of the best mind boosters. When used consistently, it'll help your mental processing, so you can breeze through every day, knowing you're on top of your game! Consult with your health practitioner before starting a new supplement regime. This blend is not appropriate for kids under 15 or pregnant women. 
A amazing-tasting drink that helps your mental focus
Only the highest quality nootropics available in Australia
The high-performance supplement ready to boost your mind
A convenient drink you can enjoy morning or afternoon
An alternative to pre-workouts when you don't want the tingle effect
Support for brain focus when dieting
Zero sugar
Zero gluten
Great tasting options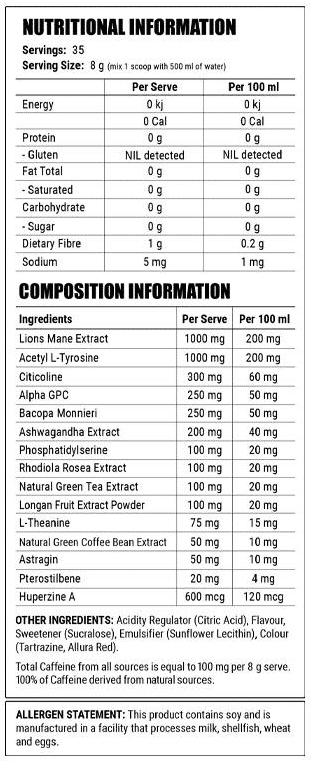 Recommended Use
NON-TRAINING DAYS: Consume 1 serve in the morning on an empty stomach with 500ml of cold water.
TRAINING DAYS: Consume 20 minutes prior to training on an empty stomach with 500ml of cold water.
Additional information
| | |
| --- | --- |
| Flavour | Candied Grape, Orange Passionfruit, Strawberry Melon, Vanilla Cola, Peach Mango, Red Raspberry |