FACTION LABS COUGAR JUICE (532g)
$64.95
Description
Faction Labs Cougar Juice
Get ready to pounce with Faction Labs Cougar Juice – A specially designed women's health supplement for the ultimate in beautifying restoration and re-nourishment.
14g of protein compliments every serve of Cougar Juice stacking the best of an energy supplement with an advanced beauty-enhancing formula.
A healthy dose of collagen can be your best friend, as much of our bodies are made up of it requiring daily support for optimum regeneration and sustaining that sought-after youthfulness.
Did we mention it has a colossal 5 billion CFU of Broad Spectrum Pro-biotic per serve? Other health benefits include increasing skin hydration by 90% and helps to improve sun damage and inflammation as well.
Cougar Juice is a total body solution formulated with a triple-threat of Marine, Bovine and Cartilage Collagen providing ladies with the essentials to improve both your fitness capabilities and your overall health and beauty game!
Cougar Juice is available either unflavoured or comes in four awesome alternate flavours; Wild Raspberry, Mango Nectar, Vanilla Bean & Milk Choc.
Unleash your inner cougar with this radiating blend by Faction Labs and give Cougar Juice a try today!
Cougar Juice Benefits
Supports skin, nails, hair, bones and joints!
May Immune system
Marine, Bovine & Cartilage Collagen blend
**These statements have not been evaluated by the Therapeutic Goods Administration. This product is not intended to diagnose, treat, cure or prevent any disease. Please consult a qualified professional before undertaking any health, fitness or dietary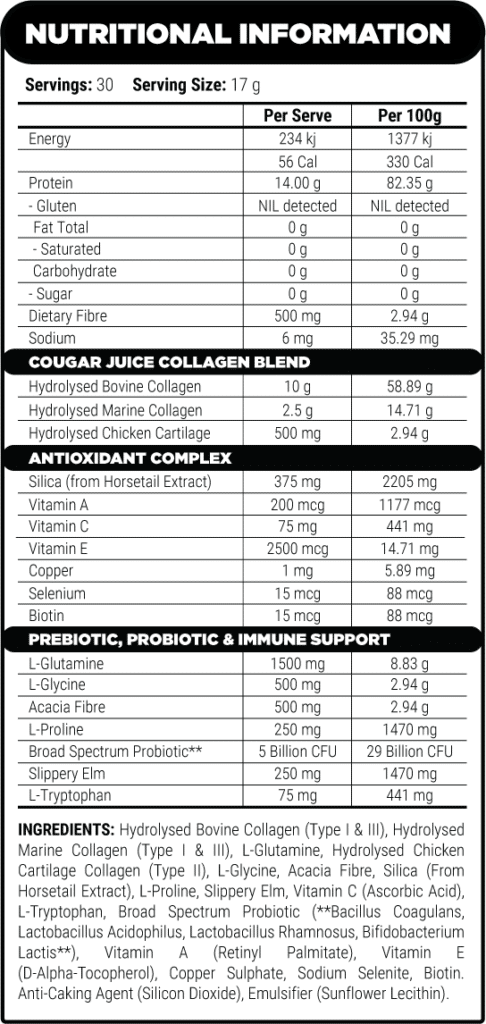 Directions:
Mix 1 x scoop with 600ml of your selected beverage. Blends well with coffee, smoothies or as a protein shake.
Not intended to be consumed by persons under 18 years of age.
Additional information
| | |
| --- | --- |
| Flavour | Milk Chocolate, Vanilla Bean, Wild Raspberry |