FINAFLEX PRO XANTHINE 500-XT (330g) 45 SERVES
$79.95
Description
Finaflex Pro Xanthine 500-XT
Finaflex Pro Xanthine 500-XT contains the highest quality and most exotic Patent Pending legal stimulants and fat loss ingredients available. It provides the ENERGY, FOCUS, and APPETITE SUPPRESSION needed to get you through the day.*
For ultimate weight management support, scientifically proven energy intensification and irrefutable appetite regulation, Pro Xanthine 500T is a product that leaves little to the imagination.
No proprietary blends
No under dosed ingredients
No cheap fillers
Designed to provide continuous energy, Pro Xanthine, as the name suggests, utilises key patented ingredients to stimulate high energy, intense focus and the perfect support for maximum lipolysis.
Key Ingredients
Continuous Energy Matrix (CEM)
The CE matrix utilises 3 primary adrenergic and dopaminergic stimulants, alongside some key naturally occurring amino acids that are designed to synergistically support the release of adrenaline and dopamine within the brain for optimal energy and focus.
Utilising patented Kinetiq Citrus Aurantium and Teacrine, these 2 ingredients work by stimulating the brain in a similar fashion to caffeine with teacrine but without becoming desensitised, and ephedrine-like reactions from Citrus Aurantium.
Combining the above ingredients allows for maximum energy release, while simultaneously blocking the reuptake of key neurotransmitters into the brain, meaning longer lasting energy with virtually zero crash.
Metabolic Matrix
Combined alongside the CEM, the metabolic blend utilises ingredients such as CLA and Dandelion Extract, which have been shown to support lean tissue preservation during fat loss as well as supporting the release of unwanted fluid retention.
Unlike most metabolic stimulants that rely solely on caffeine, PX utilises up to 6 synergistic neuro-stimulants to ensure optimal mood, energy, appetite control, fat liberation and focus are optimised.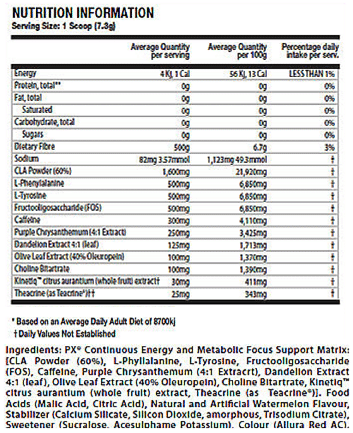 Finaflex PX Ingredients:

CLA powder (60%), L-Phenylalanine, L-Tyrosine, Fructooligosaccharides, Caffeine, Purple Chrysanthemum (4:1 Extract), Dandelion Extract 4:1 (Leaf), Olive Leaf Extract (40% Oleuropein), Choline Bitartrate, Citrus Aurantium Extract, Theacrine, Food Acids (Malic Acid and Citric Acid), Natural and Artificial Watermelon Flavour, Stabilizer (Calcium Silicate, Silicon Dioxide, amorphous, Trisodium Citrate), Sweetener (Sucralose, Acesulphame Potassium), Colour (Allura Red AC).

Directions For Use:
Mix 1 full scoop with 226ml – 453ml of cold water and consume 15 – 30 minutes prior to your workout. To test tolerance mix 1/2 a scoop into the same amount of water. Do not consume more than 1 scoop daily.
Additional information
| | |
| --- | --- |
| Flavour | Raspberry Lemonade |