FINAFLEX TOTAL MASS (4.5kg)
$109.95
Description
Finaflex Total Mass
Finaflex Total Mass is a Premier Weight Gainer Drink Mix designed for individuals desiring to gain weight and build and maintain muscle mass. TOTAL MASS is exclusively formulated with PentaPhase Protein Technology, delivering 52 grams of 5 different time-released, instantized proteins that break down in the body over 5 distinct phases, in 5 hours, ensuring maximum absorption by the body. Delivering protein to muscles is essential for gains!
All flavors of Finaflex Total Mass are exclusively formulated with PentaPhase® Protein Technology. PentaPhase boasts a unique blend of 5 different time-released, instantized proteins that break down in the body over 5 distinct phases, in 5 hours!
PHASE 1: Hydrolized Whey rapidly absorbed by muscles.
PHASE 2 & 3: Whey Isolate & Whey Protein broken down.
PHASE 4 & 5: Milk Protein Isolate (80% Casein / 20% Whey) is digested.
PentaPhase creates an environment in the body that is primed for muscle growth and recovery. The time-released break down of these proteins allows for muscles to utilize (assimilate) protein more efficiently and effectively, maximizing the absorption of the amino acids into muscles.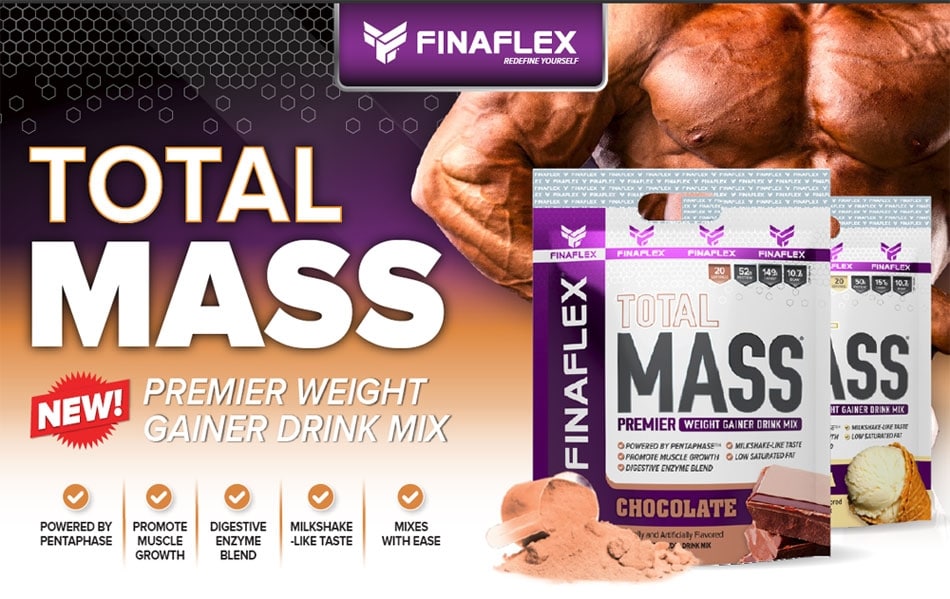 Supplement Facts
Serving Size: 4 Scoops (225g)
Servings Per Container: 20
Amount Per Serving
Calories 850
Total Fat 6g
Saturated Fat 1.5g
Trans Fat 0g
Cholesterol 85mg
Sodium 530mg
Total Carbohydrate 149g
Dietary Fiber 2g
Total Sugars 9g
Includes 9g Added Sugars
Protein 52g
Vitamin D 0mcg
Calcium 730mcg
Iron 3.1mg
Potassium 890mg
Ingredients: Maltodextrin, PentaPhase Instantized Protein Blend (Whey Protein Concentrate, Milk Protein Isolate, Calcium Caseinate, Whey Protein Isolate, Hydrolyzed Whey Protein), Creamer (Sunflower Oil, Powder Blend High Oleic Sunflower Oil, Maltodextrin, Sodium Caseinate, Mono- & Diglycerides, Dipotasium Phosphate, Soy Lecithin, Sodium Silicoaluminate, Tocopherols), Natural & Artificial Flavors, Salt, Silica Probiotic and Digestive Enzyme Blend (Lactase, Amylase, Clucoamylase, Alpha-Galactosidase, Cellulase Protease 4.5, Phytase, Protease 3.0 Invertase, Protease 6.0, Lipase, Bromelain, Lactobacillus acidophilus), Sucralose, Acesulfame K.
Directions: For use as a weight gainer mix 4 scoops of TOTAL MASS™ with 12-16 oz of cold water or other beverage and consume immediately upon mixing. For a thicker more flavorful shake mix with 12 ounces of water. For a thinner, milder flavored shake mix with 16 ounces of water. To increase flavor and macros even further mix with equal parts of milk instead of water. Intended for use by healthy adults. please do not use this product as your only source of daily nutrition. Do not use for weight reduction. ALLERGEN INFORMATION: Contains Milk and Soy (as Soy Lecithin from Soybean oil used to improve mixability). ALLERGEN
Warning: Manufactured on equipment which processes products containing milk, eggs, soybeans, wheat, shellfish, fish oil, tree nuts, and peanut flavor.
Additional information
| | |
| --- | --- |
| Flavour | Chocolate, Vanilla |