G FUEL RTD'S (Box/12 x 473ml)
$67.95
Description
G Fuel RTD's
These G Fuel RTD's are a carbonated, ready-to-drink version of Gamma Labs' hugely popular, energy and focus enhancing supplement G Fuel. The product was originally launched last year in the US and sold out in just 14 minutes, and has slowly become one of the most exciting and highly anticipated launches of the year for 2020.
The G Fuel drink feature a blend of ingredients for energy including of course caffeine as well as aminos, vitamins, antioxidants, theanine, goBHB, and the branded S7 blend. The total amount of caffeine you get per can is on the high side with 300mg.
16 Oz. Carbonated Cans
300 Mg Caffeine
Zero Sugar + Zero Calories
S7™ Complex (Ketones)

Zero calorie flavors
When it comes calories, the G Fuel energy drink sits at zero. Gamma Labs has made with the product without any sugar, carbohydrates, or fat so that you can enjoy the drink without any concerns for calories. That goes for all four of its flavors with Blue Ice, Sour Cherry, Rainbow Sherbet, and FaZeberry.
Is G FUEL safe for everyone to drink?
All of our products are made with natural ingredients. G FUEL is sugar-free, gluten-free, and packed with tons of antioxidants and b-vitamins. Like with any caffeinated product, moderation is key. At the end of the day, if you're still unsure whether or not you can drink G FUEL, just give us a call! We will be more than happy to answer any questions or concerns you have!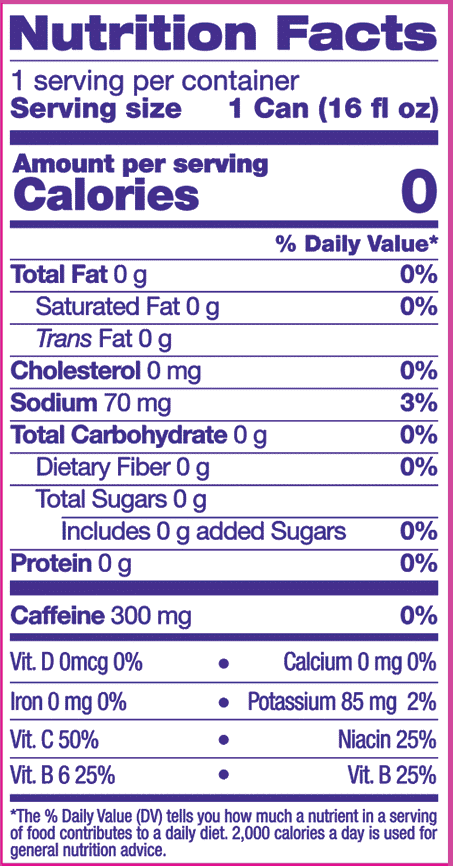 RECOMMENDED USE:
Serving Size 1 can (16 fl oz / 473 mL)
WARNINGS:
Do not use this product if you are pregnant or nursing. Do not consume this product if you have any medical conditions and/or are taking any prescription drug. This product contains caffeine and should not be used with any other product containing caffeine. This product is intended for use by healthy individuals only. User of this product assumes all liability if used in a manner not consistent with label guidelines. Too much caffeine may cause sleeplessness, irritability, nervousness and, possibly, rapid heartbeat. Not recommended for use by individuals under the age of 18. One Serving of G Fuel® provides 300 mg of Caffeine, which is more than two cups of coffee. Some vitamins are likely to degrade at the time of manufacturing.
Additional information
| | |
| --- | --- |
| Flavour | Hype Sauce, Pewdiepie, Sour Blue Chug Rug, Tetris, Wumpa Fruit, Rainbow Sherbert, Snow Cone |