GENCEUTIC NATURALS WILD & PURE RESVERATROL (60 VCaps) 500mg
$94.95
Description
Genceutic Naturals Wild & Pure Resveratrol
Genceutic Naturals Wild & Pure Resveratrol Advanced vitality and Anti-Oxidant Complex! Our Wild Crafted Resveratrol exists how nature intended it to be and is free of toxic chemical pesticides, herbicides, fungicides, synthetic fertilizers, sulfites and does not contain any genetically modified grapes.
Advanced Bio-Active Plant Compound
Extracted From Wild Crafted Organically Grown Non-GMO Grapes
Free of Toxic Chemical Pesticides, Herbicides, Fungicides, Synthetic Fertilizers and Sulfites
Naturally Contains a Full Spectrum of Polyphenols, Proanthocyanidins (OPC's), Anthocyanins and Flavonoids
Due to numerous scientific research studies including those from Harvard Medical School, scientists and physicians are researching the many potential health benefits of Resveratrol. Some studies suggest that Resveratrol may have significant therapeutic potential including its apparent ability to positively influence patterns of gene expression.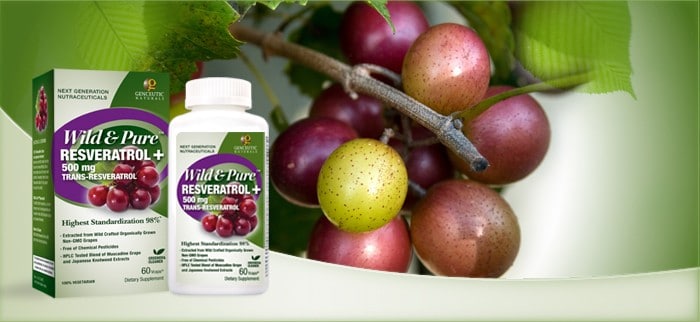 Ingredients:
Other Ingredients: Rice flour, magnesium stearate (vegetable source), silicon dioxide and vegetarian capsule.
Directions:
For adults: Take one to two capsules daily with or without food.