GIANTS SPORTS MUSCLE MAKER (5.44kg)
$123.65
Description
Giant Sports Muscle Maker
With Giant Sports Muscle Maker your workout goals are closer to being accomplished then they were before!
This powerful supplement is highly beneficial to those seeking to increase their muscle mass, size, power and strength!
Giant Sports Muscle Maker contains branched chain amino acids, creatine, and betaine, this supplement is ideal for also speeding up post-workout recovery.
This product has created the correct formula of rich natural ingredients in the right amounts and ratios to also ensure you build muscle mass that is lean. Worried about it not keeping you full for long periods? Well Muscle Maker also has the added benefit of fibre with the protein, to accomplish exactly that and satisfy hunger.
Giant Sports Muscle Maker can be taken as a post workout supplement – to enhance muscle recovery and lean muscle gain OR it can be consumed anytime during the day to satisfy your regular protein requirements – in the morning, afternoon, or evening.
Mass gainers is all about two things: building and maintaining muscle mass. This is a protein formula that will help you achieve your maximum potential by increasing muscle cell size and strength. It will give you the incredible maximal results you deserve when supplemented with a high calorie diet.
Giant Sports Muscle Maker is also perfect for anyone losing too much muscle from their daily activities and need additional calories to help sustain and improve their body weight. For people with a fast metabolism, this is one of the best products created to help you finally gain some of that muscle and weight you have been seeking.
This mass gainer is a post-workout supplement that contains multi-functional proteins to supply the muscles with amino acids at a sustained rate. Giant Sports Muscle Maker will nourish your muscles and body with BCAA's, essential and non-essential amino acids, glutamine, fiber, and carbohydrates.
MAXIMUM STRENGTH MASS SUPPORT COMPLEX
Zero Added Sugars
Gluten Free
Provides more calories, nutrients and protein than most others in the sports nutrition market.
Helps keep you in a nutrient fed state for hours after training; If you're a hard gainer looking to take your physique to the next level, increasing muscle mass is much easier with with Muscle Maker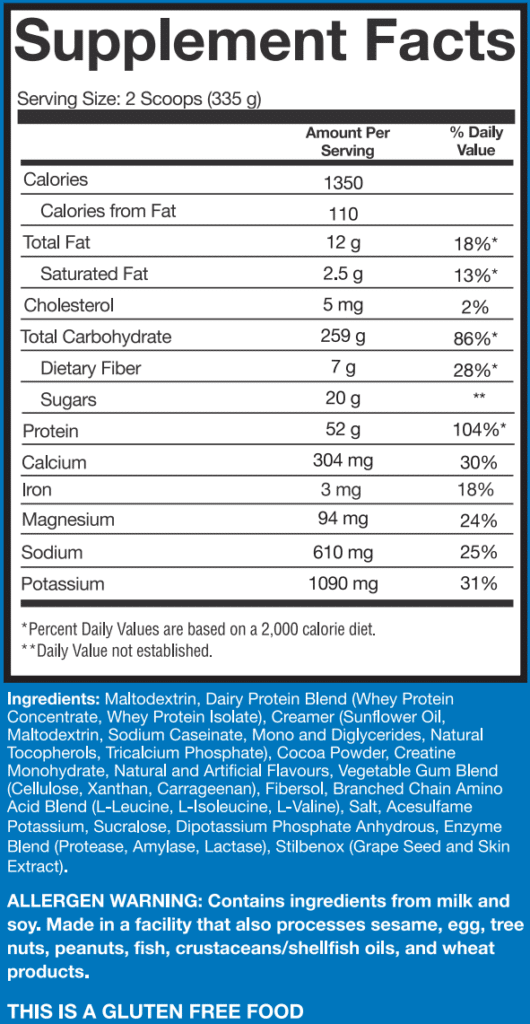 Directions of Use:
Mix 1 (one) or two (2) scoops with 300mL of water and consume immediately after completing your workout (post-workout) Can be taken as a meal replacement for breakfast and or whenever a meal replacement/protein is needed in the day.