GLAXON HYBRID (400g)
$64.95
Description
Glaxon Hybrid
Glaxon Hybrid is fuel – and not just any fuel, but a combination of both carbohydrates and ketone salts to provide a "Hybrid" fuel source unlike any other.
Sometimes, our pre-workouts can leave us exhausted or somehow wanting more – more performance, more stamina, or more explosivity. By fueling your cells with a combination of exogenous ketone salts and carbohydrates, we take energy to the maximum. Not only is this the type of energy you can "feel" mentally, but also see the results physically. Hybrid was designed to turn up the power and make everything else in your supplement arsenal work even better by providing a clean "Hybrid" fuel source.
Hybrid works by supplying two forms of fuel that your body really likes: exogenous ketones and carbohydrates. Now, these carbs actually vary in complexity, which should result in different absorption rates.
Product Highlights
High Efficiency Carbohydrates + Ketone Salts for Powerful Performance Substates
May promote Cognitive Flow State for Cognitive Enhancement Support
May enhance Energy at a Cellular Level
**These statements have not been evaluated by the Therapeutic Goods Administration. This product is not intended to diagnose, treat, cure or prevent any disease. Please consult a qualified professional before undertaking any health, fitness or dietary program.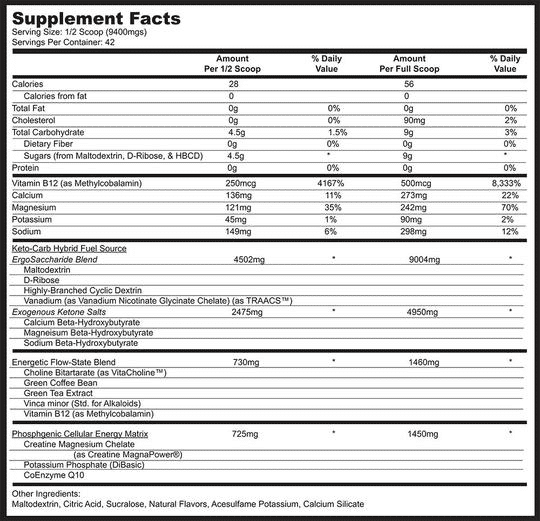 Directions:
As a dietary supplement, mix 1/2 to 1 scoop into 16oz (500mL) or water and mix vigorously. Consume as a per-/intra-/post workout.
Additional information
| | |
| --- | --- |
| Flavour | Mighty Berry, Purple Pear, Unflavored |