GLAXON XENO AMINO (336g)
$54.95
Description
Glaxon XENO Amino
Glaxon Xeno Amino is specifically formulated to enhance muscle recovery, aid in staying anabolic, and help add the lean muscle mass you've been looking for. It doesn't stop there, Xeno Amino is also the perfect addition to any weight loss program as it can effectively help preserve lean muscle mass while in a caloric deficit.
The inclusion of Xeno Amino in your supplement regimen does much more than help build and preserve muscle. Glaxon Xeno Amino can help support both joints and bones while also aiding with maintaining proper intra-muscular hydration levels, which are all critical components to staying healthy while training with intensity.
Glaxon Xeno Amino is available in three mouth-watering flavors.
Magnesium Citrate – Plays a role in nerve and muscular health and functioning
Sodium Chloride – Helps maintain proper fluid balance and hydration in the body while also aiding in increasing the absorption of other electrolytes
Potassium Citrate – Can help with proper nerve functioning while also helping prevent muscle cramps and metabolizing carbohydrates
MyoSeq™ – A trademarked blend of a science-based amino acid ratio that offers support for muscle protein synthesis, exercise-induced fatigue, muscle tissue preservation, and can improve muscle recovery
Astrolyte™ Electrolyte Blend – Composed of Fructooligosaccharides, Magnesium Citrate, Sodium Chloride, and Potassium Citrate, this blend helps support cellular functions, helps maintain proper hydration and fluid balance, aids in muscular contractions, and can improve workout performance
Taurine – A useful amino acid that helps maintain proper hydration, can increase exercise performance, may aid in fat-burning during exercise, decrease muscle fatigue, and improve muscular contractions
Hyaluronic Acid – Helps flood the muscles with water to aid in proper hydration levels while also aiding in lubricating the joints and supporting bone strength
Astragin® – A 100% natural and patented compound that helps increase the absorption of ingredients such as amino acids to allow for maximum results while also promoting gut health
**These statements have not been evaluated by the Therapeutic Goods Administration. This product is not intended to diagnose, treat, cure or prevent any disease. Please consult a qualified professional before undertaking any health, fitness or dietary program.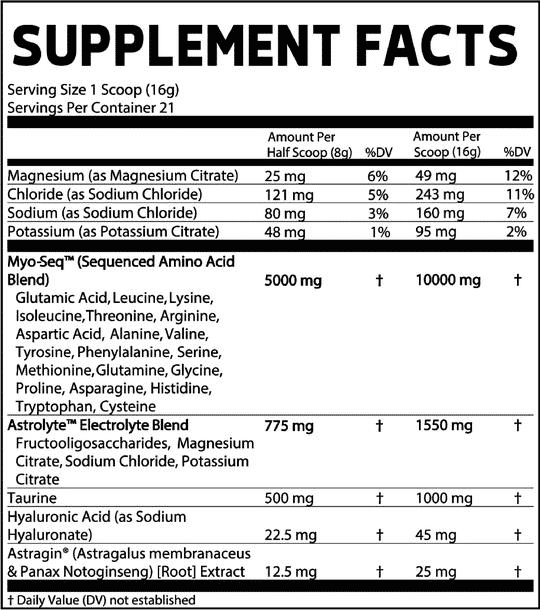 Directions:
As a dietary supplement, mix ½ to 1 scoop into 16oz (~500mL) of water and mix vigorously. Xeno Amino is best taken 30-45 minutes before exercise but can be consumed pre-, intra-, or post-workout. Xeno Amino can also be taken on off-days to promote anabolism and enhance muscle recovery.
Additional information
| | |
| --- | --- |
| Flavour | Peachy, Sour Berries |