GRENADE .50 CALIBRE PRE-WORKOUT (580g)
$74.95
Description
Grenade .50 Calibre Pre-Workout
Grenade .50 Calibre Pre-Workout is the ultimate pre workout devastator, designed to take your session to the next level. This hard-hitting supplement contains Citrulline Malate, along with beta alanine, caffeine and creatine to increase energy, strength and endurance levels. .50 Calibre will help to reduce tiredness during workouts and increase workout capacity.  Available in four flavours, this powerful pre workout guarantees an explosive workout, helping you to push through your plateau and smash your goals!
This hard-hitting pre workout guarantees an explosive workout every time! .50 Calibre® is packed with high-quality, effective ingredients including Citrulline Malate, high nitrate Beta Vulgaris, high-dose, flavanol-rich Theobromo Cacao and a number of other essential ingredients to support muscular blood flow.
.50 Calibre® promises quality, featuring includes key ingredients such as Beta-Alanine, caffeine and Creatine, to increase energy and performance during your workout.
Vegetarian
Suitable for those following a vegetarian diet, who do not eat foods that consist of, or have been produced with any part of the body of an animal.
GMO FREE
Free from ingredients that were produced using modern biotechnology.
Low Sugar
This product is considered as low sugar in line with EU regulation. A low sugar claim may be made where the product contains no more than 5 g of sugars per 100 g for solids or 2.5 g of sugars per 100 ml for liquids.
Contains Caffeine
Products containing caffeine. Caffeine is a stimulant compound found naturally in coffee and tea. Caffeine contributes to an increase in endurance performance and capacity, increases alertness and improves concentration.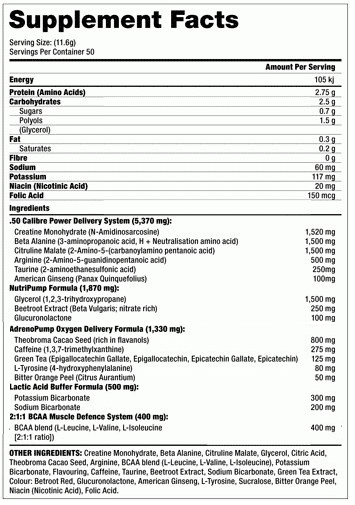 Directions: Mix 1 serving (half scoop – 11.6g) with 150 to 250mL of cold water and stir or shake. Consume approximately 30 minutes before training. DO NOT exceed one scoop per day. DO NOT consume within 4 hours of intended sleep.
Additional information
| | |
| --- | --- |
| Flavor | Killa Cola, Berry Blast |