Sale!
Description
Gut Performance
Gut Performance is a product that will normalise and fortify the protective lining throughout your digestive tract and help your naturally-occuring microbiome to flourish. Good health starts from the inside out!
Did you know that 70% of your immune system resides in your gut? Or that a leaky gut can cause muscle soreness after exercise? Or that digestive health has been linked to mood and mental health?
Improving and maintaining your digestive health is very important. Good gut health has a massive effect on your overall health.
Simply put, good overall health starts with a good gut.
Gut Performance is unlike any other supplement of it's kind. This unique formulation is a safe, 100% natural concentrated food supplement that contains vital prebiotics and other key ingredients to improve not only your gut health, but your overall mind and body health as well!
Are you ready to take control of your Gut Health… and experience greater health and happiness?
It's common for many men and women who train hard to suffer from 'bad gut' issues including bloating, IBS, gas or even constipation. If this is you, then know that you're not alone.
At the very core of your own mind/body health, fitness levels, and energy is your gut health. When your gut is out of whack, it can drain your energy, give you physical pain, and make you moody or even depressed (and frustrated!).
There is a reason they call the gut 'the second brain' and your 'engine room'.
Sometimes no matter how healthy you try to eat and also workout, it's just not enough. What you need is something that's scientifically developed to improve your own gut health and, in the end, get you back to a happy, healthy life!
Take care of your gut, and your gut will take care of you.
Features & Benefits
Active Prebiotic bring your gut microbiome back to a healthy environment
Improves general health, both in mind and body
Assists in weight loss (as shown in a dietician-led real life study)
Significantly reduces bloating
Improves intestinal absorption function
Lowers the Glycemic Index (GI) when taken with food
Reduces gut inflammation
Beetroot extract – improves gut health and muscle performance
Complex micronutrients that your body needs
Antioxidants – Polyphenols & Flavonoids
Soluble and insoluble fibre
Each serve contains 12% RDI of dietary fibre
Gluten Free – Hypoallergenic, Non-GMO, FODMAP friendly
Contains NO artificial colours, flavours, preservatives or chemical stimulants
Scientifically developed and formulated
100% natural Australian innovation
Gut Performance is a Food for Purpose
**These statements have not been evaluated by the Therapeutic Goods Administration. This product is not intended to diagnose, treat, cure or prevent any disease. Please consult a qualified professional before undertaking any health, fitness or dietary program.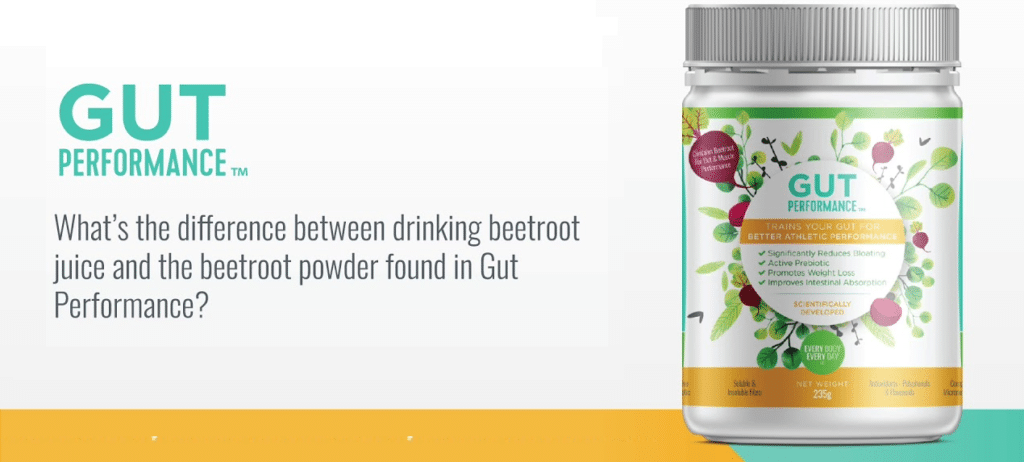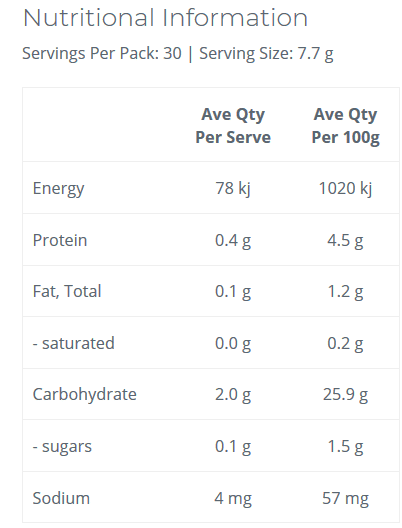 Ingredients
Sugarcane Stem (sugar removed); Red Sorghum; Citric Acid; Potassium Bicarbonate; Whole Beetroot Powder; Gum (Xanthan & Guar); Natural Raspberry Flavour; Stevia (natural sweetener).
How to use
Add one rounded scoop of Gut Performance™ into a glass and add approximately 250ml of water, or add to shakes. Mix thoroughly.
Recommended Dosage
12 years to adults; take one scoop once a day. Not suitable for children under the age of 12. Do not inhale contents.
Additional information
| | |
| --- | --- |
| Flavour | Blackcurrant, Raspberry |