INSANE LABZ POSSESSED (221g)
$66.95
Description
Insane Labz Possessed
If you want a pre-workout that keeps working long after you're done in the gym, you need Insane Labz Possessed. Not only does it get you jacked for a tough workout, but it also helps you put on muscle post-workout. Possessed contains multiple ingredients to get you ready for a grueling workout.
It contains two different types of caffeine, citrate and anhydrous, L-Tyrosine, Choline Bitartrate, and Beta-Alanine to get you ultra-focused and boost your workout performance levels. Possessed also adds Creatine and D-Aspartic Acid for increased strength and testosterone levels, helping you add muscle mass and recover quicker. Then to top it all off, we added our patented AMPiberry and OXYgold to increase the absorption and utilization of all the ingredients, making this one potent supplement.
Caffeine content from all sources: 225mg
Your Best Self Is Waiting To Be Possessed
INCREASE MUSCLE GROWTH. Insane Labz Possessed is one of the most unique pre-workouts on the market. With a full dose of creatine to increase strength and endurance with D-Aspartic Acid to increase testosterone levels which aids in building muscle mass and strength, Possessed checks all the boxes you didn't know you needed in a pre-workout.

INSANE MENTAL FOCUS. Not only will Possessed increase muscle mass, but it also gives you Insane focus and mental clarity. The addition of L-Tyrosine and Citicoline are two of the best nootropics you can use.

2 AMAZING AND UNIQUE FLAVORS. How often do you see the same flavor of pre-workout on the shelf? All the time. The Mad Chemist had enough and created two of the best tasting flavors known to man; Strawberry Pina and Gummy Worm
**These statements have not been evaluated by the Therapeutic Goods Administration. This product is not intended to diagnose, treat, cure or prevent any disease. Please consult a qualified professional before undertaking any health, fitness or dietary program.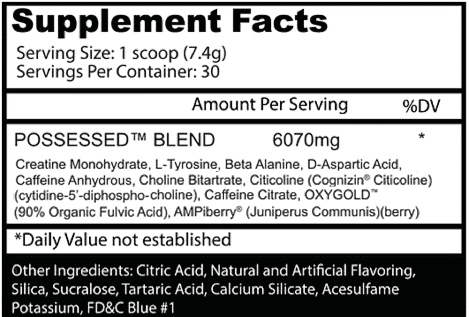 Directions: Mix 1 scoop in 400ml cold water 15-30 minutes before your workout and prepare to crush your workout!
Additional information
| | |
| --- | --- |
| Flavour | Strawberry-Pina, Gummy Worms |