INTERNATIONAL PROTEIN GUT SHOT (180g)
$52.95
Description
International Protein Gut Shot
Help your gut with a shot of International Protein Gut Shot! When you're feeling bloated, you need a quick solution. This delicious herbal drink is an effervescent that will help ease those bloating pains. Keep on powering through your day without the sensation of a heavy gut! Gut Shot is your amazing tasting gut health effervescent, designed to be kind and gentle to your stomach. When you have Gut Shot you'll love the gut soothing feeling, and help release trapped air from the stomach.
If you're a bodybuilder, athlete or regular gym-goer, then having solid gym performance matters to you. When dealing with uncomfortable bloating, smashing your gym records is likely the last thing on your mind. When your gut feels 'off', it can impact your energy, mood and drive at the gym. Use Gut Shot to help you get back on track!
Even with a healthy diet, you can still experience bloating and distension, especially if you're trying to eat more to grow. By drinking Gut Shot, you'll find you can get back to what matters most.
Give your gut some love with Gut Shot, a specially designed blend of soothing ingredients, Gut Shot will have you feeling great again.
When you regularly take Gut Shot by International Protein, you'll:
Help maintain your gut health
Have help to relieve the symptoms of bloating
Enjoy gut soothing properties
Assist to release the stomach's trapped air
Be able to enjoy this effervescent drink daily
Order your Gut Shot by now and get back to feeling lean and energetic! Say goodbye to the pesky discomfort after bloating. To take this product, enjoy it immediately following your meal, or whenever you have bloating.
In each serve of Gut Shot by International Protein, you'll find:
45 kJ
11 Cal
0.13g of Protein
<0.1g of Fat
<0.1g of Saturated Fat
2.0g of Carbohydrates
0.17g of Sugars
811mg Sodium
<5mg Potassium
1000mg Apple Cider Vinegar
500mg Ginger Powder
500mg Mint Powder
500mg Turmeric Powder
500mg Green Lemon Powder
**These statements have not been evaluated by the Therapeutic Goods Administration. This product is not intended to diagnose, treat, cure or prevent any disease. Please consult a qualified professional before undertaking any health, fitness or dietary program.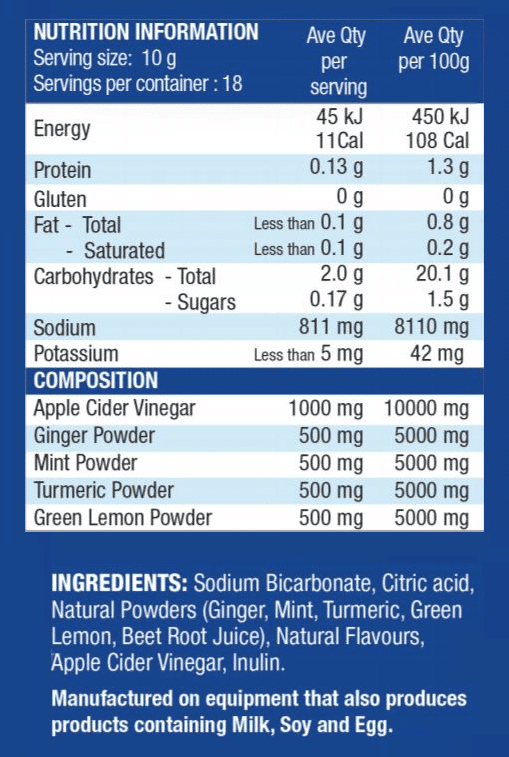 Directions:
Mix 10g (1 Scoop) with 200ml of water. Take immediately after any meal or when bloating or discomfort occurs. Although this is a natural product, we recommend not consuming more than 3 serves per day.