Isatori Bio Grow (90g) 60 Serves
$48.95
Description
Isatori Bio Grow
Isatori Bio Grow is a ground-breaking sports supplement like no other. iSatori is the first to introduce a new breed of designer supplementation called Bio-Active Peptides. You can think of BIO-GRO as "fertilizer for your muscles." The ultra-concentrated BIO-PRO® Bio Active Peptides found only in BIO-GRO work best when taken daily and should be the base of any serious trainer's program. BIO-GRO is the true catalyst to help drive lean muscle growth, improve strength and decrease recovery time.*
When taken daily in the correct amount for your bodyweight, BIO-GRO has been clinically studied to decrease recovery time and DOMS, as well as increase mass and ramp up strength on the leg press and bench press… and that is with trained individuals.*
BIO-GRO is instantized for easy mixing, sugar-free, gluten-free and stimulant-free and is perfect to add to your muscle-building or weight-loss program (when you are trying to maintain muscle). BIO-GRO is truly the next generation in performance-based supplements, and can be used by men and women alike.
What are Bio-Active Peptides?
The engineered Bio-Active Peptides (or BAP's) found only in BIO-GRO use a world-leading manufacturing method, whereby cleaved protein fragments are extracted from the highest grade bovine colostrum, which are then centrifuged and micro-concentrated to form a low molecular weight, highly bioavailable powder, yielding an exact concentration of bioactive: Proline-Rich Peptides (PRPs), Growth Factors (i.e. Fibroblast-GF), Immunoglobulins and Lactoferrin.
Why should I use BIO-GRO?
There are five reasons you should use BIO-GRO:
1. Concentrated and powerful. A highly concentrated form of Bio-Active Peptides means less out-of-pocket expense for you, and more results. That is because one small scoop (1.5 grams) of BIO-GRO contains bio-active peptides that triggers protein synthesis, muscle-building, increased strength, and recovery can be dramatically improved.*
2. More convenient. Unlike bulky tablets and sugary powders, BIO-GRO is an unflavored powder in its raw form that is virtually tasteless. Now instantized, BIO-GRO mixes well in liquids like water or your protein shake as well as foods like oatmeal and yogurt. It is truly an easy-to-use ergogenic aid.
3. More scientific research. There are numerous published clinical abstracts and studies that back up the demonstrated benefits of the primary ingredient in BIO-GRO. And more importantly, these studies were conducted mostly on well-trained athletes, participants who traditionally show less positive effects compared to untrained individuals.
4. More expert opinions. There hasn't been a supplement we can think of, to date, that has had more PhD-sports nutrition experts who independently support and validate the science and effects behind the primary ingredient in BIO-GRO. Including such highly reputable names as Darryn Willoughby, PhD; Jeffrey Stout, PhD; Jay Hoffman, PhD; and David Sandler, ABD-PhD.
5. Highest quality. Because iSatori controls the domestic source of our ingredient and has engineered the first micro-concentrated, low molecular weight Bio-Active Peptides found in BIO-GRO, you can trust and count on every batch being of the highest quality and consistency; and what's more, each batch is GRAS certified, HALAL, Kosher, and produced right here in the USA.
Who should use BIO-GRO?
BIO-GRO should be used by anyone who is interested in developing or maintaining more lean body mass and enhancing recovery from exercise or sport. BIO-GRO is also recommended for those looking to maintain muscle while on a calorie-restricted diet.* This would include bodybuilders, fitness, figure, or physique competitors; and athletes competing in any sport at all levels.
Can women use BIO-GRO?
Absolutely! Many athletic women already do. Because BIO-GRO contains almost zero calories, zero fat, zero sugars and zero gluten, it is perfect for dieters or women who are calorie- or carb-conscience yet want the bioactive benefits of protein to help develop and maintain lean body tissue. And BIO-GRO requires only one tiny scoop (1.5 grams) that has well-documented scientific results on top of the mountains of anecdotal evidence from users. What's more, BIO-GRO is derived from a natural source and is safe for healthy individuals to consume.*
**These statements have not been evaluated by the Therapeutic Goods Administration. This product is not intended to diagnose, treat, cure or prevent any disease. Please consult a qualified professional before undertaking any health, fitness or dietary program.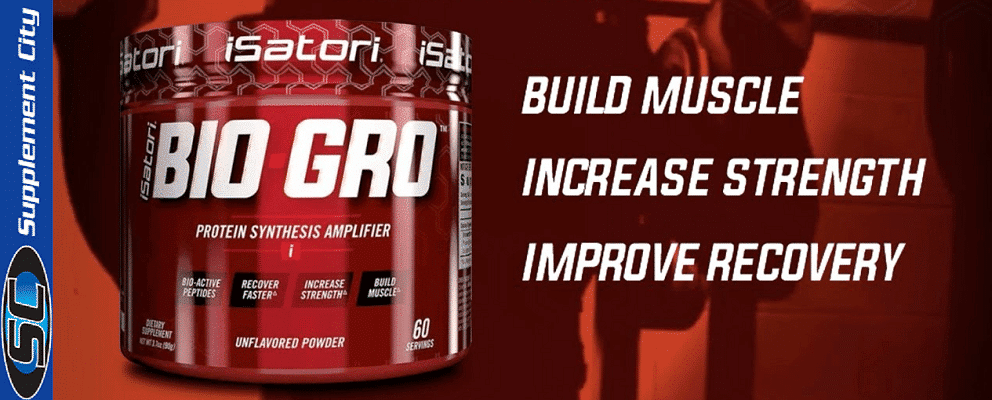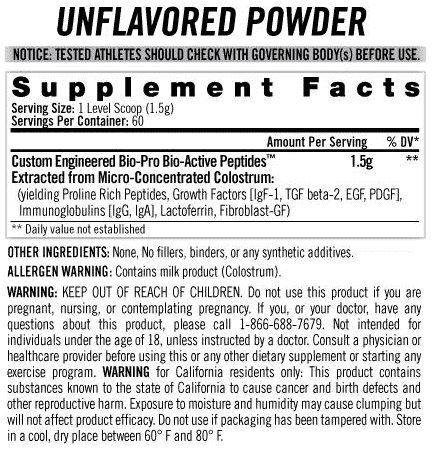 Contains milk product (Colostrum).
Ingredients:
Other Ingredients: None. No fillers, binders, or any synthetic additives.
Directions
As a dietary supplement, mix one scoop of Bio-Gro twice daily in liquid and thoroughly agitate or blend (clumping likely if stirred in plain water), or mix in soft food (yogurt, oatmeal, etc.). Bio-Gro is an unflavored powder that can be taken anytime with or without food.