JDN AMINO SHRED (390g)
$54.95
Description
JDN Amino Shred
JDN Amino Shred contains a remarkable blend of the 9 Essential Amino Acids, with a promising mix of added "JDN Shred Matrix" ideal for anyone battling that deficit or focusing on their summer shred, totally caffeine-free.
We've included L-Carnitine to assist with burning fat & boosting metabolism &Theobroma Cacao Extract, a natural anti-inflammatory that may help support cardiovascular & heart health.
It contains Theobromine which is an alkaloid similar to caffeine that can help assist with energy levels. We've also thrown in Green Tea & Green Coffee Bean Extract, to promote weight loss, blood sugar regulation, and exercise recovery.
Studies have shown if there are adequate amounts of EAA'S available for muscle protein synthesis, your body is more likely to burn fat rather than muscle. Our body cannot produce Essential Amino Acids on its own.
Amino Acids are best taken together, which is why a complete EAA blend rules over your typical BCAA's. They are extremely beneficial for protein synthesis & lean muscle mass, whilst prioritizing recovery.
Indications
Essential amino acids are vital to the body and supplementation can assist with protein synthesis.
Our body cannot products essential amino acids on its own so it is important so consume adequate amounts.
The body may perform better during exercise when amino acids are present especially when dieting or in a calorie deficit.
When in a calorie deficit supplementing with essential amino acids can prevent muscle breakdown which is what can happen when dieting or in a challenge type format.
Amino Shred tastes amazing which can be a big help while on an eating plan or restricted diet!
**These statements have not been evaluated by the Therapeutic Goods Administration. This product is not intended to diagnose, treat, cure or prevent any disease. Please consult a qualified professional before undertaking any health, fitness or dietary program.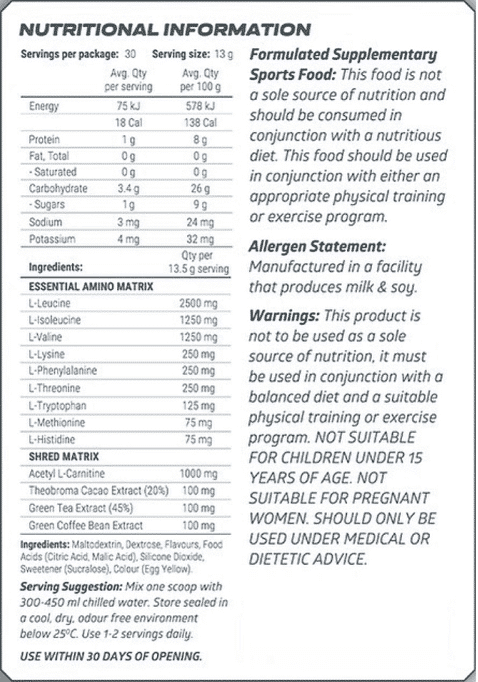 Directions of Use:
Consume 1 serve of Amino Shred before, during or after training for optimal uptake. The amount of water can be suited to personal flavour preference. If you like a product sweeter feel free to mix with 300ml of water whereas others might like to mix in 600ml or more. The amount of water added will not change the effectiveness of the product.
It can also be consumed at any time of the day as a delicious, low calorie beverage. When in a calorie deficit or on a strict eating plan consuming Amino Shred throughout the day might make it easier to stick to the plan!